Below the coffered panels are the skirt panels. These were in better shape than the coffered panels and had a "rope" mould along the top edge. The rope mould was mostly new construction, ( poorly done ) and was replaced with new mould that I ran and distressed. It started to look like this was at least the second installation of these panels because some of them were cobbled together and mis-matched. It became easy to find where they originally belonged, because their length matched up with the width of most of the main panels.
Below is a shot of a piece as it was on arrival.

These panels were structurally weak and brittle. They would only be exposed at the carving, so I decided to build new frames for them. The wide piece at each end is where the top of the columns will eventually overlay them.

The layout of the panels in the new room worked out very well. The total lineal feet of coffered panels was much longer than the main panels because there must have been some large openings in the original room that the main panels stopped and started, while the coffered panels continued over the top. The new room had much of the same. The frame holding the coffered panels was toast and most of the coffered panels were in pieces, so they took some work. They were a variety of heavily carved beveled pieces and flat panels with applied carvings and figures. These were fun to arrange and repair.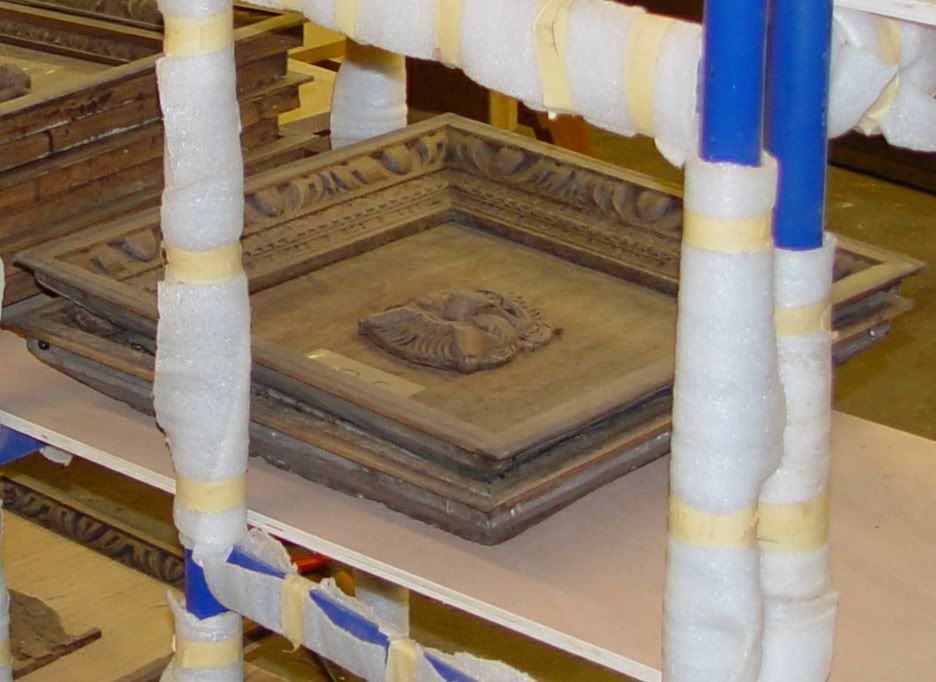 CAD layout of a couple of walls.

The panels with miter lines are like the panels in the photos above, and the rest are flat with a relief carving or applied figure. The photo below shows a pile of the flat panels ready to be installed into a coffered panel frame.

Next – - Devise an installation system.
-- Marshall _ Wichita, Ks _ "Growing Old is Mandatory - - Growing Up Is Optional" :)
---