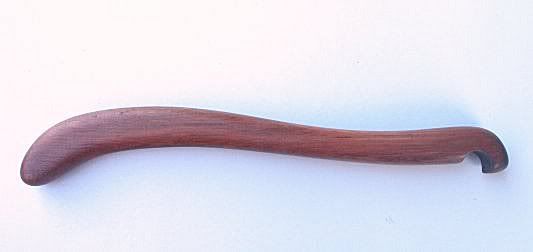 .
So the rules say we can only post one entry and I've done that. But since we are in the kitchen, I'll post this little gizmo anyway. It is another way to reduce the contents of that off cut bin! It is also real easy and quick. The only tools required are a drill, a coping saw, jigsaw or band saw, and sandpaper. So what is it exactly?
.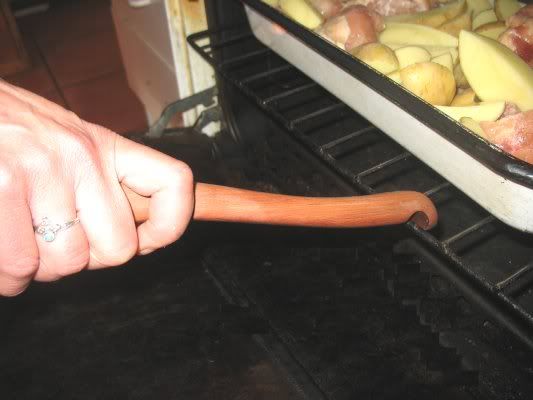 .
I think the photo says it all. Pardon our dirty oven. My wife has a sign on the fridge that reads: "A clean house is a sign of a wasted life!"
.


.
I first drew a pleasing shape on some white cardboard and fiddled with it until I was happy. My pattern is around 275mm (11") long. The Candle wood off cut that found its way into my grubby paw was 20mm (¾") thick. This is not critical, whatever you have will work, but a hardwood is the best.
.


.
Draw the outline of you pattern on the wood and first drill the hole. I opted for a hole diameter of 16mm (5/8")
.


.
Next, cut out the wooden stock along the drawn line. I used a band saw but a jigsaw or coping saw will do the trick too. Take out the saw marks with sandpaper and round over the handle's edges. I used the router table and a round-over bit. A rasp or even just sandpaper will also get the job done.
Finish as you wish. I used Boiled Linseed oil.
Don't worry; this is the last one for some time! The workshop has been slow, that's why I could practice my blogging skills. Tomorrow I start a big job which will keep me far away from the off cut bin!
-- Div @ the bottom end of Africa. "A woodworker's sharpest tool should be his mind."
---