CS1 Spaghetti Measurer
How do you ever know how much spaghetti to cook? Either you have to eat pasta 3 days in a row or you have to drown it in sauce to fill the plate. This handy little Spaghetti Measurer will remove the guess work.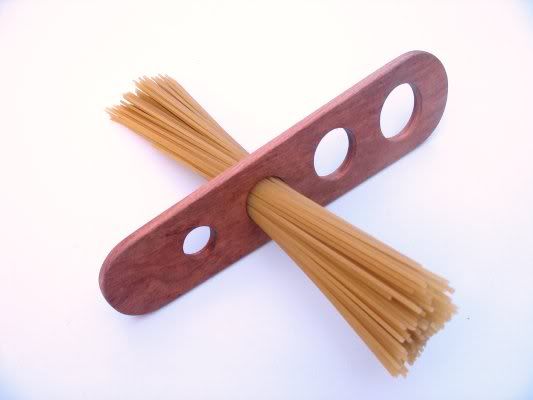 It is an easy project, suitable for woodworkers of all skill levels. The only tools required are a drill, a selection of Forstner bits, a coping saw and some sandpaper, off course.
I made this one from a piece of African Rosewood, 10mm thick and around 60mm wide, found in my scrap bin. Any hardwood and any thickness will also do fine.
After marking a centerline, drill 4 holes, starting with a 35mm hole. The next one is 30mm, then 25mm and finally 19mm. Ensure that you have equal distances between holes, just for looks. These are bit sizes I have. If your hole sizes are slightly different or imperial, it won't matter. (Divide by 25 if you want these sizes in inches!)
It remains to cut the outside to a pleasing shape. I opted for a simple shape with tapered sides and radiused ends, but hey, whatever takes your fancy! If you don't have the luxury of a band saw, a jigsaw or coping saw will do fine. Sand the measurer well and don't forget the hole edges.
The recommended finish is a food-grade bowl finish but I've always used boiled linseed oil for lack of finding the aforementioned.
I made buckets full of these in my craft market days and they sold well. Just make sure you set up a demo, otherwise no one knows what the hell it is!
-- Div @ the bottom end of Africa. "A woodworker's sharpest tool should be his mind."
---