It was maybe 15 years ago that I started work for a small boatbuilding company in Cape Town. The boss was a German man with a handlebar moustache and a little fluffy dog that followed him everywhere. He loved his beer and he loved his cooking; there was always a pot of something on the go in the tiny workshop kitchen. He made the best pea soup I ever had, thick and green with bits of bacon. He was also a master shipwright of the old school. This man taught me most of what I know about woodwork and a lot of what I know about life.
Up until this time, a tool tote for me was just a simple box with a broom stick handle, something that you slapped together as quick as possible. With Herr Strempel it was different. He had the most beautiful tote I ever saw, all contrasting woods, hand cut dovetails, shaped and laminated handle, and it even had some carvings. What also impressed me was that he used it. It was a tool with a purpose. Sure, it had some dings and scratches, but I think this was part of the appeal and added to its beauty. He did not glorify this object and place it on a pedestal. It was beautiful AND functional.
With his blessings, I made a similar one for myself, working on it mostly during my lunch hours. It was the first dovetails I ever did. I think Herr Strempel regarded the project as a little training exercise; he spent much work time to teach me about cutting dovetails and other woodworking techniques.
It is now 15 years later, I still have my tote and I still use it every day. It has its own dings and scratches, showing the passing of time. It has traveled all over the world with me. It has also brought a lot of work my way. I remember many instances during my boat building days when I would walk down a dock, tote in hand, on my way to a boat. Complete strangers would call me over to offer me a job: "If that is what your toolbox looks like, you must surely know your job!"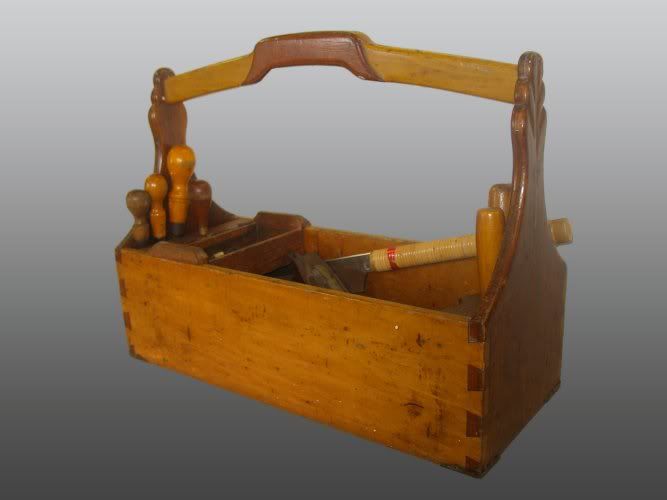 -- Div @ the bottom end of Africa. "A woodworker's sharpest tool should be his mind."
---