Well here goes another project! My oldest daughter asked if I could make the granddaughters a bunk-bed. So as usual dad is up to the challenge!! After three days of looking on the Internet for different bed styles I picked the one pictured below.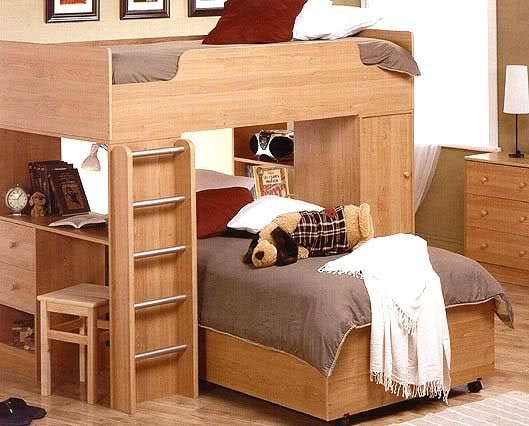 We all approved this bed as the one best fit to the girls. So I purchased 6- 4×8 sheets of cabinet grade birch ply, 2- 4×8 sheets OSB, 1- 4×8 sheet Masonite board. We also bought several wood drawer pulls. The picture you see shows what I see as 4 separate units or mods as I will refer to them. My design will differ a bit from the picture. I am making the closet shorter with 2 drawers under the closet. Also I am adding two drawers under the shelves in that same mod. Now on to the desk mod I am putting three drawers in this mod, 1 small pencil drawer under the writing area then 2 larger drawers under it. Now the bottom bed mod, I am putting a 10×30 drawer in the end of the bed for the girls blankies & sheets. Otherwise the bed will be as pictured. The closet will be 14 1/2×36 1/2 to hang clothes in. I am using pocket screw(with wood plugs on exposed screws) technology & glued jointery. So far this has proven to be quite strong & quick for some of my projects. All the exposed ply edges will be banded with birch veneer. I have found the pre-glued iron on works well for this type of application. I am going to use t-nuts(1/4") & 1/4×20x1 1/4 stove bolts ( 8 sets) to attach the upper bed to the 2 mods. Keep checking back for updates & in the works pictures!
-- Bob "life is one big school & we are the students"
---