The starfish knob in the former section is too large for certain applications. When building my router lift I needed some smaller ones due to limited space. The plan contained templates for triangle knobs like these.
The original idea was to cut them out freehand with the bandsaw. Again, I am still no master concerning bandsaws. So I made a simple jig which pivots a round piece of wood through the bandsaw blade.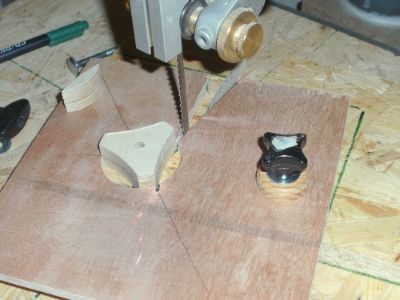 The first step is to cut the round piece with a holesaw. The blank must fit rather snugly in the hole in the pivoting jig. After the three cuts at 120° increments the raw knob looks like this:
Similar to the starfish knob you can insert different nuts or bolts according to your needs.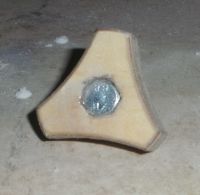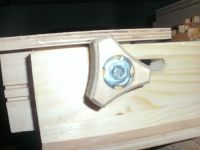 If you want to build a similar jig you can use my plan as a starting point. All dimensions are in mm.
There is also a photo with the original resolution available.
---