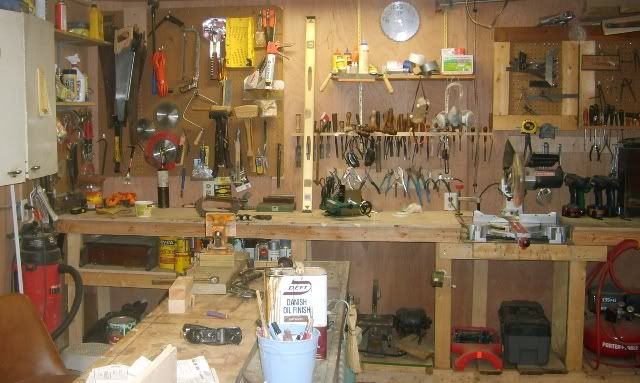 Hi, I was posting pics of my workshop last night, and it got me to thinking about my old tools. I posted some of those thoughts in the description of my shop, but then decided they may be more appropriate in a blog, so…
-My father was not handy. Dad had a hard time figuring out what end of a nail goes into the wood, LOL. However, when my grandad passed in '91 (I was 17), dad inherited all of grampa's tools.
Gramps was a pattern maker by trade and gunsmith by hobby. He had an extensive hadge-podge of metal and woodworking tools that dad had no idea what to do with, nor ambition to learn. Out of nostalgia I suppose, dad hung on to all of it anyway, letting it rust and dust in the store room of the house. This was really surprising to me. You see, the two of them (Dad and Grandpa) had not gotten along all that well
Meanwhile, I went to University and then began working as a Corrections Officer. In search of a hobby to de-stress, I discovered that flannel-shirted Norm guy on Public Television. I have been learning the craft ever since.
After I spent lots (and lots) of my money on fancy Norm-esque power tools, dad gave me an old wooden carpenters box filled with a rusty mix of grandpa's chisels and hand planes and some other odds and ends.
Dad said had it just seemed like I should have them, as they weren't any good at the house and I can get some use out of them. I think It was a way for him to finally say goodbye to his old man.
Well, they sat in their box in my shop for a year or so. What the heck was I gonna do with them? I had POWER TOOLS!
Then one day, on a lark, I researched how to clean up and "PROPERLY SHARPEN" these tools (it turns asking about "PROPERLY SHARPENING" hand tools is like talking politics and religion, but I muddled through). As I began to buff off the surface rust, little memories of my late grand-dad began popping into my head. As I sharpened the chisel and plane blades on an oilstone I recalled long forgotten lessons Grandpa had taught to me on using THAT very same stone the proper way. When I re-assembled the planes, I remembered how gramps would dig a hand full of pocket change out for me and would always have a couple small screws or nails in the mix from whatever he was tinkering with at the time. I could almost see him sitting at his dining room table with a portable vise holding a new stock he was carving for the next rifle to be made.
In fact, I discovered the link to my grandfather that I had abandoned years ago when I entered my teens, asserting my independance from the people I loved the most, and never rediscovered because of his passing. When I use grampa's hand tools now (which is way more often than those loud, dirty and dangerous NORM machines) I cannot help but think of the man who created with them before me. I remember the love of a young, only grandson for the man who was a poor father, but tried to do right by the next generation. I feel the link to that flawed but wonderful old man as I grip the same worn handles that he held, and create with the same tools he had created with. It's such a powerful, "romantic" thought that sometimes I can almost hear the old man again, telling me the story of how he got started in life, how he had purchased most of his tools second hand back in the 40's from an older coworker who was retiring.
Now, I have the disease common to all uf us "dark side" woodworkers; I spend hours surfing ebay and garage sales for more old iron, and have added 8 or 9 planes to Gramps "starter set". I work with those tools almost exclusively now, only using my power tools for the rougher beginning work.
I even have other old tools whose history I know. There's the 1940's 14" bandsaw and 6" joiner that I purchased from a local gentleman who had used them since they were brand new to create wooden boats for the Century Boat Company. Those boats are now sought after collector's items. Theres is an old Mont. Ward scroll saw that I bought at a thrift store. It was originally mounted to an antique TV cabinet, but I restored it to working condition. My vintage carvers bench that I found in pieces in the basement of this house, and moved to the shop belonged to Mr. Haley, the gentlleman who lived here for the better part of the last century. And so on with all the others.
For me, there is a connection to the past when working the hand tools. It is cool for me, because these old tools have a story (and a life) of their own. Not one antique in my shop is just a tool. The 1940's Delta stuff made some true works of art in those Century Boats, and I own some of the rifles made by grandpa. It's a link to the past that I can't wait to pass on to my son (or daughter…she seems to have more interest in the woodworking so far).
To ebay my old tools would get me a couple thousand dollars, I am sure. But money cannot describe the true value of an old tool. They all have a story to tell, and thats why they should be treated with the same reverance and respect as a box full of heirloom jewelry.
-- POST NUBILA SOL - After clouds sunshine
---