When I first took on this project I had my doubts whether or not I could get it to work. After doing a bit of research and finding some good photos of the original corn sheller it was obvious to me that this was going to be a fun little project which would test many of my skills. The only thing that my client wanted was for me to make it functional but I did talk him into letting me do the original paint job as I thought would really add a lot to the over-all looks of the project. These are a couple of pics of what I had to work with. Most of the original wood was either rotted away or was missing completely and what was left is full of post beetles, but I did have enough to get most of my measurements.

I began by building the frame using the same mortise and tenon joinery as the original paying attention to every detail knowing that tolerances were very tight on the original.
Dry fit frame
Because all of the parts for the sides were a full 1"thick I bought a nice piece of 5/4 poplar that I used to get all the pieces to complete the rest of the woodwork.
I ordered square headed nuts and bolts like the original and even had to order the flat head slotted wood screws.
Between the original pieces that I had and some photos that I found I had enough information to do the paint job.
Photo of an original Hocking Valley Corn Sheller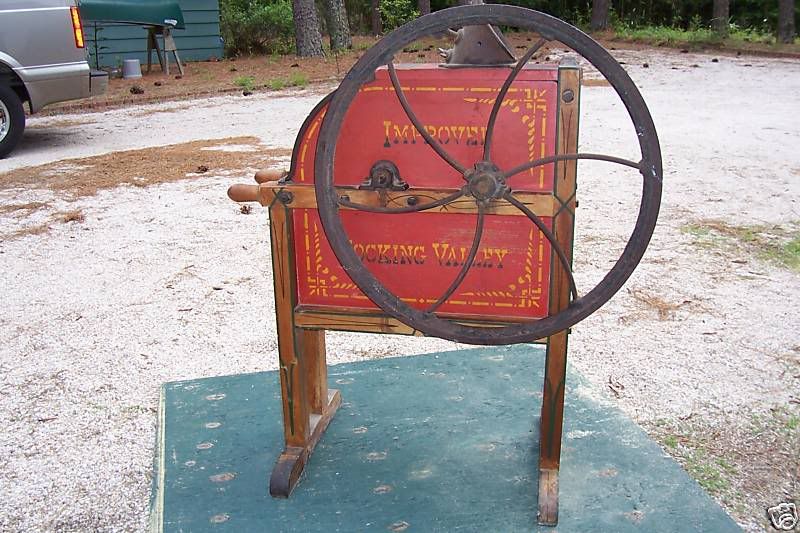 So Here is my version of a restored " Improved Hocking Valley" corn sheller. I haven't tried an ear of corn in it yet. but the mechanics seem to work pretty good.
-- Mike --http://www.custommade.com/by/mikemathieu/
---