A friend came by the shop looked around, pointed to something and said "That's a great Idea"
I am very scared of heights and although I have a 6' set ladder I just can't go beyond the second step, in any case there would be nobody there to hold the ladder.
Last year I was trying to put together a vacuum system with the tubes 8' high on the wall. I also wanted to run an air hose from one side of the shop to the other, again about 8' high along a beam, I also need to change out light tubes and that sort of thing. You feel a fool asking someone to come and go up a ladder for you and do the jobs, so pretty much they all just sat there. My answer was to get a mobile scaffold which had a nice wide and long platform to stand on and I even added a rope rail around the platform for my extra security. The scaffold worked perfectly for me but when I was finished doing the installs, I realized it was not like a ladder that you could fold up and stash. My options were to disassemble it or leave as it was – in the way!
Here's the Scaffold I bought ($160) plus the specs/blurb: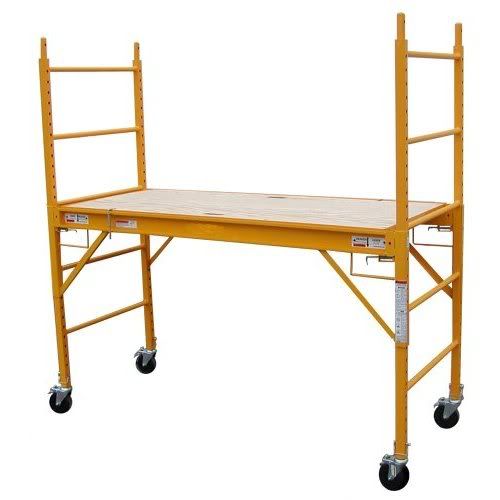 This Contractor Grade product is truly a must when being elevated off the floor is a what it takes to get the job done! Great for interior or exterior use on level surfaces or on stairwells. It features a 1/2" plywood deck that is riveted into the steel Powder Coated support frame and reinforced underneath with 2 extra bars. Two safety latches insure that the plywood deck stays in place. It provides a 1,000 lbs. working load capicity. It features 5" full 360° swivel casters that have double lock foot brakes that prevent them from turning & swiveling when needed. The unit is 29" wide so it will fit through most standard doors for ease of movement. It adjusts up to 6 feet and can be double stacked. Manufactured to meet or exceed ANAI Standards & OSHA requirements. Optional accessories available include a Guard Rail System (OSHA requires this if scaffold is over 10' tall.) & Outriggers for support. If the Outriggers are used, then the casters from the second set of Scaffolding are used on the Outriggers. Assembled Size: Length 74" , Width 29", Height 75". A great tool for the Painter, Window Cleaner, Electrician, General Builiding Maintenace to name a few.
After pondering for a while an idea came to me…let's turn this into a mobile wood rack until I need to use it as a scaffold again.
I took some 2×4's, notched each end to slide over the end ladder rails and then cut some cdx to fit accross the 2 – 2×4's on each level. Problem solved and lumber rack that can bring the lumber to you as a bonus.


I could not get the Pic to show all the rack, but you'll get the idea, unfortunately when I took the Pic the rac was loaded with a lot of crud – sorry about that.
-- Roger-R, Republic of Texas. "Always look on the Bright Side of Life" - An eyeball to eyeball confrontation with a blind person is as complete waste of Time.
---