The top is finished except for trimming the ends and flattening.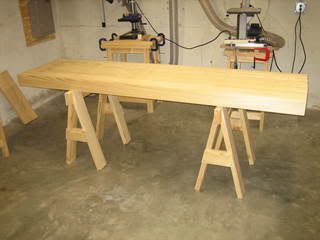 I used 2"x10"x8' SYP joists and cut them in half. Jointed, planed and then cut them to 4.25" width on the table saw. I glued them up using Titebond III and a foam brush. I did them in groups of four (2 joists) at a time. I then jointed and planed those 5 groups of 4 and glued them all to each other in one big glue-up.
I made clamping cauls using cut-offs covered w/ packing tape so they wouldn't stick to the benchtop. They worked great. w/o them it is a big slippery mess. I learned this building the base for my previous bench.
The top ended up 8' long, 24.5" wide and exactly 4" thick. It's heavy!
Still haven't decided if I want to trim the ends w/ the Disston D8 and a good breakfast or the circular saw.
—steve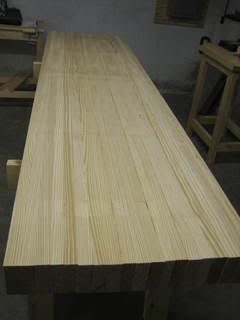 ---