These are some of the jigs and such I made to get going on my box project.
A zero clearance plate and a push-stick that my son said looked like a shark, so…..

A miter sled made from scraps and a MDF shelf for the base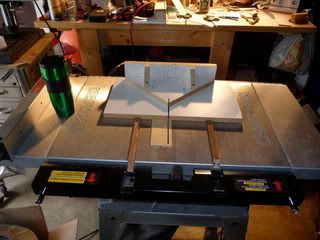 A jig for cutting the splines, a Doug Stowe design off of his "Basic Box Making" DVD
I also canabalized a pine shelf for it
I thought I made a cross cutting sled, but it must be in the mess of my garage.
Anyways, thanks for looking:)
-- Scott "Some days you are the big dog, some days you are the fire hydrant"
---