I have had several people ask me how I turn a hollow form. I documented, the best I could, the process I go through when making a hollow form vase. I found it difficult stopping and photographing the process. Documenting the process became a process all in itself.
The first step is selecting the wood and marking the centers. I then mount the blank on the lathe between the spur drive and the live center.
The piece is then turned round.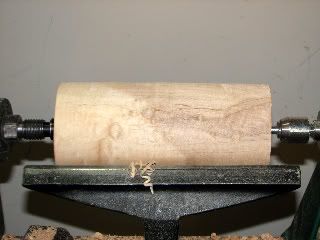 A tenon is then made for mounting into the chuck jaws.
The piece is then mounted into the jaws of my chuck. At this point, I am still using my live center in the tail stock for stability.
The shaping begins, always trying to cut downhill when possible.
When the majority of the outside shaping is complete, I sand the piece to 180 grit. Notice I have not done the final shaping on the base. I will leave some bulk down there for stability while hollowing the inside. While the live center is still in place, I will begin to open the vase with my bowl gouge.
The tail stock is then removed from the piece and the lathe and the tenon nub is removed.
Next, I drill a 3/8" hole through the center to the proper depth.
The first step is to hollow the center core all the way to the bottom, stopping frequently to blow out the shavings with compressed air. Every time I stop, I also view my progress by use an LED pin light for illumination. I also finish the opening to the proper thickness.
I then keep hollowing the inside, taking a little at a time starting with the thickest parts first. I methodically hollow and shape the inside until it mimics the outside with my desired thickness.
Once the hollowing is done, I sand the opening down as far as I can reach. The base is then turned to the final shape.
I do the final sanding and then part the piece until it begins to wobble. I stop the lathe and cut the piece of with a coping saw. I remove the remaining tenon with my reciprocating carver and power sander. I finish hand sanding the entire piece.
The finish is then applied. Since this piece was a demonstration piece and I was not too thrilled with the foot. I decided to experiment with mine new airbrush and aniline dyes. The final finish is satin lacquer sprayed on.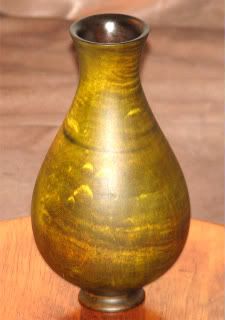 You can view the project here.
-- My favorite piece is my last one, my best piece is my next one.
---