This is a blog requested by Douglas Bordner. Midnight Serenade started as an ordinary piece of straight grain oak. I carved an unusual shape to try and bring some interest to the grain. After shaping and sanding, this piece almost receive a traditional finish. The wood and grain were beautiful, but Douglas had a request that needed to be fulfilled.
The next step was to apply two coats of Fiebing's black leather dye. You could also use this technique to ebonize a piece.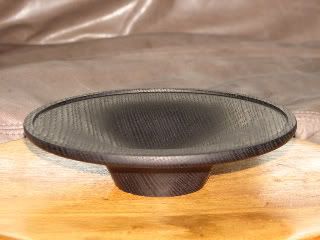 I then spray two coats of lacquer to seal the dye.
The next step is applying the liming wax. After the wax has dried it is buffed with 0000 steel wool and top coated with Briwax.
Please ask any questions and I will attempt to answer them.
You can view Midnight Serenade posted in my projects.
-- My favorite piece is my last one, my best piece is my next one.
---