Well after some time away from my shop because of the cold weather I did get back to this cabinet. I finished carving the sides to the best of my limited carving ability.While I was doing that I put the door panel and the case back in the veneer press, then I put the case together,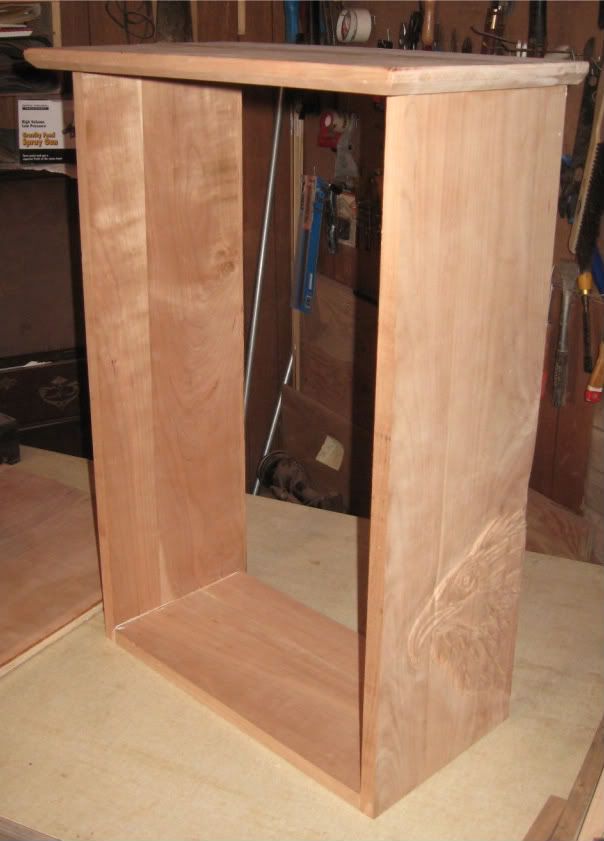 and then finished the door after it was out of the press.
I had to figure out how I wanted to fit the tools I have in the cabinet so I laid them out on some brown paper to give me some idea of were I was going.
Anyway I made a few little wood blocks to hold the tools but they looked just to plain so I carved little feathers on them.
All that was left to do was put some finish on it and put it together," So far so good! Although that's what the blind man said somewhere around the 10th floor, when he walked off the roof." or so said my buddy Lee Jesberger when I started, that's when disaster struck. I was putting on a couple coats a lacquer on the pieces and had them outside of my shop because it was so nice outside and I had the door propped up against the cabinet while it was drying, I looked at it and said that doesn't look good but I left it anyway. I was in my shop working on something else and heard a crash outside and went out to find the door, cabinet case, and back panal all lying on the ground. The door had landed on the corner and just crushed the corner, the case was cracked up the side and all of them looked like I was going for that distressed look people put on reproduction furniture. I cleaned them up as best I could and carried on as this was just a cabinet to hold tools there was no reason to freak out although I was a little disappointed. Well hear is the finished cabinet and the end of all the drama that goes on in my little shop in Albion Pennsylvania.
Hear are a couple shots of the finished sides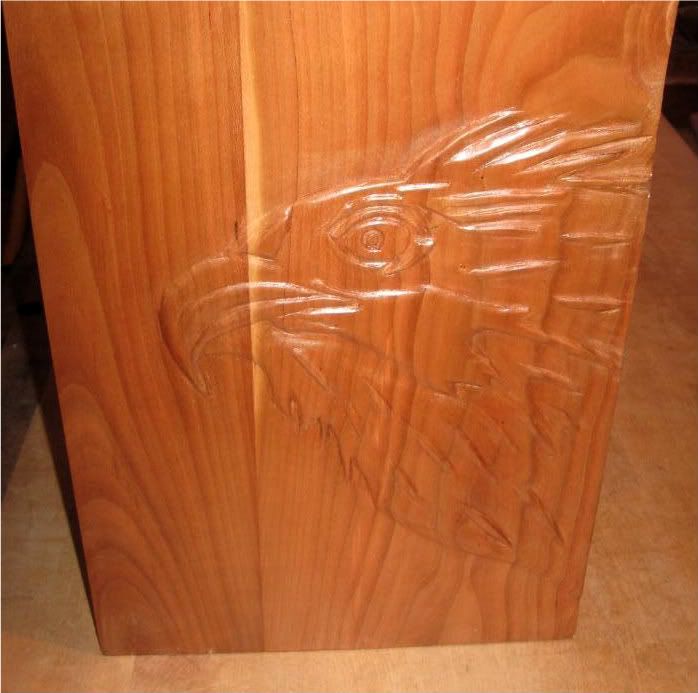 Hear are a couple closer shots of the inside I did plan on having my #8(or #7) plane before I finished with this but I got carried away a bought some more carving chisels instead so that is why there is some big wide open spaces.
I really had fun building this little cabinet despite my little tragedy near the end but I learn a little something with every project I do. My only concern now is when I moved it full of tools I realized the weight of it and the back panel is only made of 1/2" plywood, I hope it can support all the tools it will hold. Now I just have to fill all those empty spaces with the tools I have planed, and I think I want to build a matching one for the other side of my bench for some of my carving chisels and other tools maybe in an American Bald Eagle theme.
-- Paul--- Creativity is allowing yourself to make mistakes. Art is knowing which ones to keep. — Scott Adams
---