Well last year I took it in my head to build a Les Paul Junior style guitar. Why? Not really sure. I've got 2 Strat style guitars now and wanted an LP style and figured I take a shot at it. A local guitar shop had a damaged LP Junior style that I picked up for $40 and I managed to salvage the neck and electronics for my build. Basically, that left me with building an LPJ style body. Can't be much to routing a neck pocket, pickup recess, electronics recess, bridge holes etc… right? ..... will I ever learn that nothing is what it seems. Follow me through my build as I highlight some of the progress thus far.
This being my first build, I didn't want to spend a big amount on exotic or nicely figured woods since I truly expected to butcher it at some point. So poplar was the choice – fairly hard and dense and cheap. Picked up a rough cut 10" wide 2" thick piece that was approx 5ft long for $30. My wife wondered what I was going to do with it and I don't think she believed it would become a guitar (and to some extent, neither did I)!!!
Section of rough piece cut and ready for planer. I brought it from 2" thick down to approx 1.5". I was a bit worried since there was a fair bit of cup in the board but getting it down to 1.5" removed all of that.
Next up, make the template. Based on the shape of the body that came off the guitar I bought, created the template from 1/4" MDF.
The original piece was 10" wide and I needed approx 13". So jointed a few pieces and put together the blank needed. I was quite satisfied with the joint considering it was done on the table saw (I don't have jointer). This shows the blank with the template pattern traced.
The next major challenge was the neck pocket. Unlike a Strat, the neck on a LP style has a slight neck angle (rake angle I believe they call it???). Using the body from the original guitar, I determined the required angle and built a jig that allowed my router to cut out the exact shape of the neck pocket and the required angle (I'll get a pic of the jig later – don't have one right now). I set the neck in the original guitar and marked a line on it parallel with the top of the guitar body. After routing my neck pocket in a couple of test pieces, I found that the neck was dead on when placed in these test pockets. So off to the my blank to get it all setup.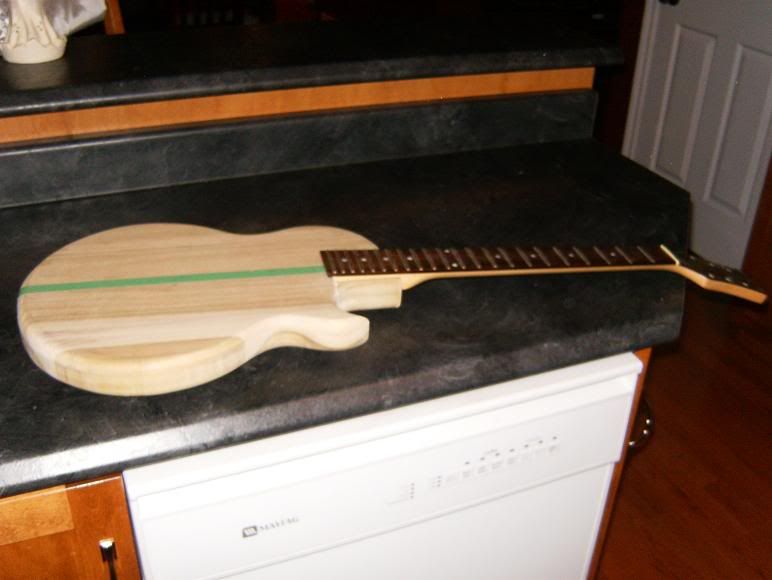 Now that it's starting to look like a guitar, I'm getting excited. Next step, pickup + electronics cavities + holes for bridge/tailpiece. Some basic jigs + router + template guides and viola – here it is: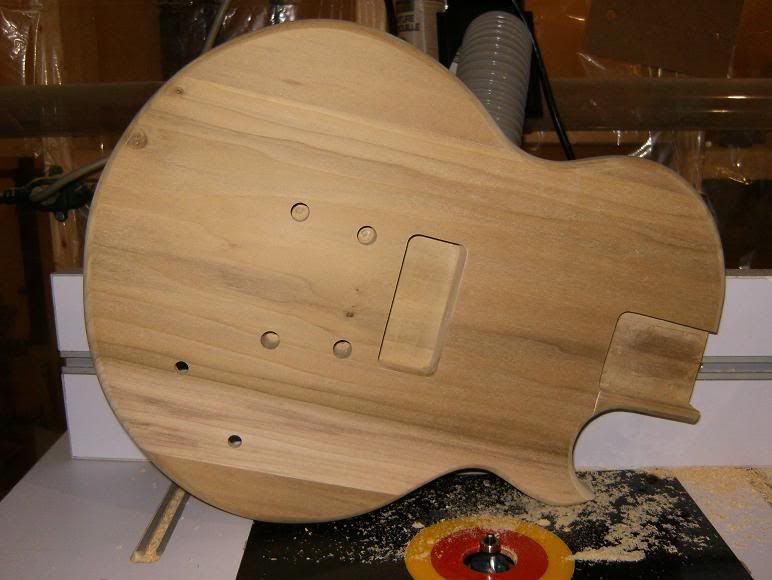 Finish – What to do?
Originally, I was thinking a deep blue. I wanted something that would allow the wood grain to show through and didn't just want to paint it over. I look at a number of different shades of blue but nothing was jumping out at me. Then, for some reason, I decided on cherry (talk about a 180 degree turn). I used a water based stain that went on really nice and I think allowed the natural look of wood to shine through while still giving it a nice color. Once the cherry stain was on, next was the wipe-on-poly. I started to apply the poly as per the instructions on the can – with a foam brush. Although it was going on, I was having problems with getting a nice silky smooth surface and air bubbles in the poly were bothering me. Thanks to advice from some fellow WW at another forum, they suggested that I truly "wipe on" the wipe on poly with a cloth (what a concept – wiping on wipe-on poly : why didn't I think of that????). Here is what it looks like to date:
Thus far, I'm quite pleased with the build. I've learned a hell of a lot, especially when it comes to finishing. Next step, prep the cavities for the electronics. More pics when that happens.
Thx for looking.
---