With the month of November devoted to NaNoWriMo, my time in the shop has been limited lately. Nevertheless, I have managed to get a bit more done.
Prometheus is a somewhat military guy, so his "robot" facade includes some typical military images. For example, he has participated in a number of famous battles and campaigns. Of course they were back in the early Greek days, but nonetheless, he was there. As befitting his experience, his "chest" includes a rather impressive "salad bar" of decorations.
At the point this picture was taken, the inlay hadn't quite been sanded flush, but you'll get the idea. With the exception of the brass, these are all different woods.
Here is the central carcass, with the interior egg crate loosely installed. The shell is purpleheart, and the interior is padauk. The slots are sized for CD's, DVD's, and various desk supplies. Some have drawers (not shown) that are faced with leopardwood. The plywood block on the bottom right is only there for support, since the facing section in that area must be removable to access the power strip and some other electronic things.
Lastly, here's a shot of the carcass mounted on the leg assembly. At this point, the whole piece is slightly more than 4' tall, with shoulders (and arms) and a head yet to come.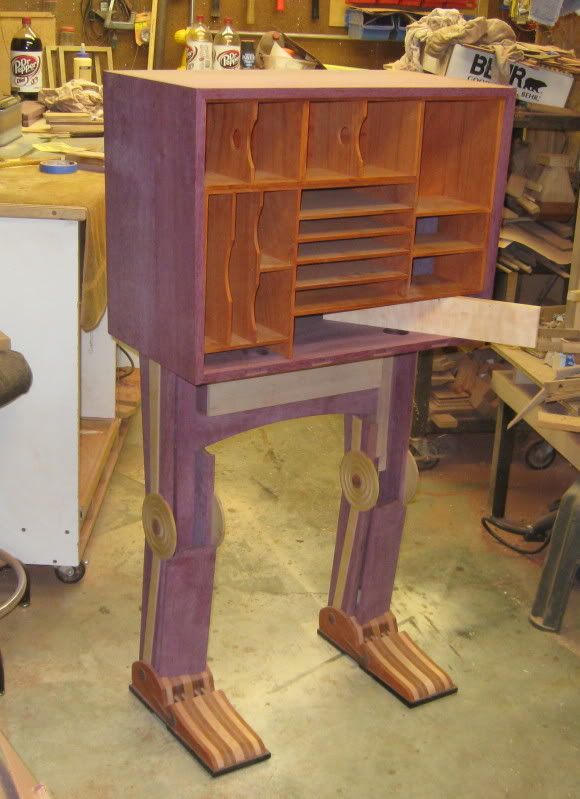 That's all for now. Everyone have a great Christmas.
WA
---