Hi everyone. Another quick Blog to share a marking knife I just completed. Have had this Hock blade sitting in the shop for a year, and decided to put him to work since my other main knife has a round handle and rolls badly.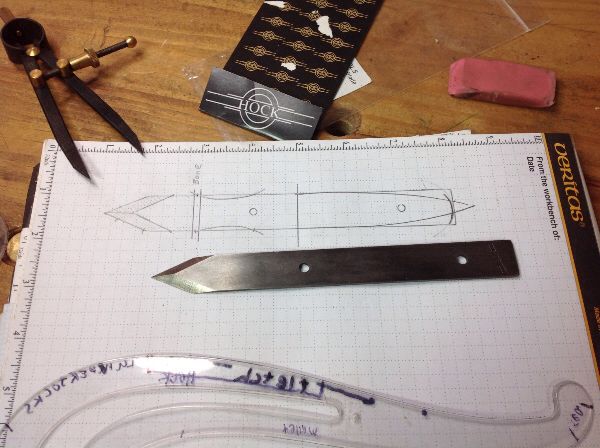 This blade has a full-tang, so should make a stronger user! I didn't care for the square edges on the original blade, so used french curves and a sharpie to lay out a few nice curves.
A quick trip to the grinder, and I had a sexy shape to play with. I also used the belt sander to smooth the outer shapes.
Next, I chose some highly figured East Indian Rosey, and laminated a flat piece of Elk antler to one end. Re-sawed the blank in 1/2 to create bookmarked scales!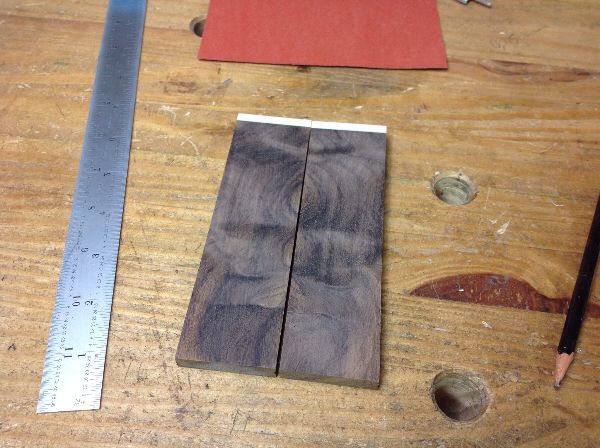 Using double-sided tape, I positioned the knife blade exactly where I wanted it on the scale, and proceeded to drill holes for the pins. First, drilling one scale. Then, more tape to position the opposite one, before drilling through the first set of holes and into the second scale. Make sense?
I also traced the outline of the steel onto each scale, so extra wood could be removed quickly at the scroll saw. I'll sand the wood down flush with the steel later, but want to use the scroll saw to save time now.
For a little accent, I cut some red vulcanized plastic spacers which will seat against the steel blade. Also decided to use stainless steel pins to match the blade on this piece. All waiting for a little heat and epoxy…it was 52 degrees in the shop even with the heat pump running!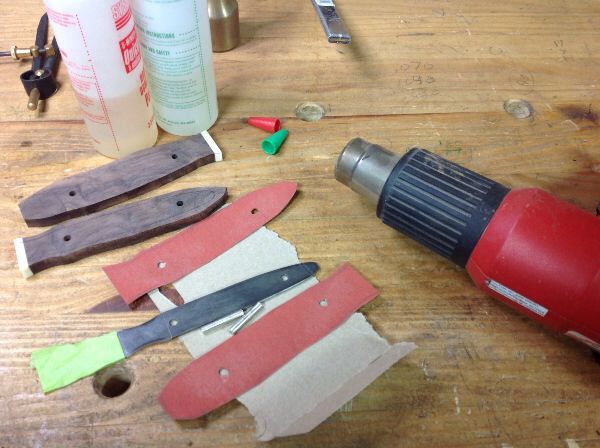 No boring photos of the clamping, although I did manage to epoxy one plywood caul to the lovely rosewood! oops!
I spent a few more minutes at the belt sander to true up the edges of wood and steel, but final shaping was done with handheld sandpaper against a dowel or block of wood.
And, then, an hour of sanding to 800 grit while rounding over the edges of the handle…buffed wax for a finish…
Nice. Heavy. I even honed the edges and scored a few test lines. Sweet user! And the square shape won't roll off the bench.
It was a shame to cover up Mr. Hock's name on the steel, since He has such nice blades, but that's the way it goes! I still consider it a Hock Knife!
Questions and comments are always welcomed…
-- tr ...see one, do one, teach one...
---