Didn't get as far as I wanted to today, but here is what I got done.
First glued up the last 2 leg blanks. Jointed and squared up the 6 I glued up yesterday. Ended up with a nice pile of planer shavings that filled the dust collector.
Now off to the veneers. Ok, I haven't resawed anything really thin before and it's been a while since I've used the band saw. Actually I haven't used it since I bought the Kreg fence at Christmas, so need to do a little tune up to make sure all is running order. After some adjusting and test cuts on scrap I'm ready to resaw. Pulled out my jig I made and set it up, made more test cuts in some scrap from the bin. Here's my setup.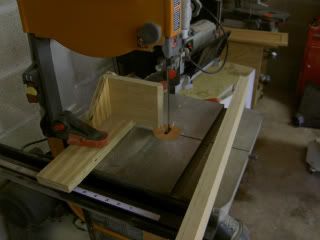 For a first attempt at resawing thinner stock, I think I ended up doing pretty well. Had a little bit of a tough time leaving my line and had some wave. Good thing I left it a little thick (or tried to more precisely), so I could flatten it back out on the jointer. Did run into one snag though. During my resaw operation I see sparks, ut-oh this can't be good. The screw holding the guide block in next hits the table and the block is falling out of it's enclousure. So I stop mid cut to fix that and to get things running back on track. Guess I didn't tighten it down enough after making my adjustments during tune up. (Mental note: check to make sure adjustments are tight next time before turning on the tool). Here's how I ended up with the veneer.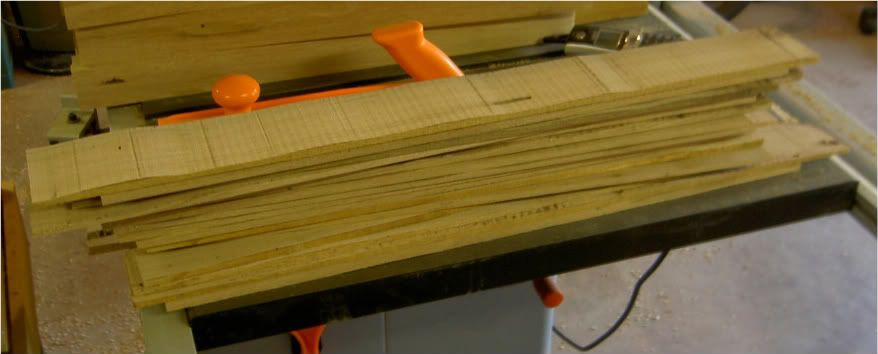 Told ya I had some waves. LOL. Next is glue up to the leg blanks


I've lost count now how many legs I have the veneer glued on now. I do know I have more to do. BUT (slapping forehead), as I was matching pieces of veneer to the blanks I realize some of the veneer pieces aren't wide enough to cover the leg. Ok crap I need to cut 2 more pieces of veneer. So continue on with glue up. I knock a couple of pieces of veneer on the floor with a clamp. No big deal right? HEHEHE, my trusted shop companion Buddy the Golden Retriever decides Oak tastes good and sneaks outside with those pieces in tow. Before I can even yell at him, those pieces are splintered in the lawn. Shit, now I have to cut 4 new pieces of veneer. And I thought I had everything planned out just right. HAH fooled me.
Last, but not least I was able to get the rest of the pile sitting on my bench face jointed.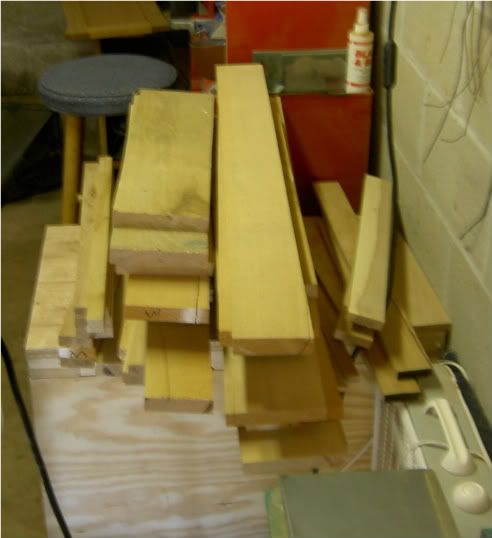 Plan for tomorrow is to go to Hershey Park, so no shop time tomorrow. Probably be Sunday before I can get back in the shop.
Thanks for reading
---