A friend of mine has a little boy who was turning 3 over the weekend. I got it in my head to make something fun for him for his birthday. Mainly because with the holidays here I didn't really have the cash to buy him anything and a homemade present is always more fun. I subscribe to The scrollsaw workshop blog by Steve Good and he had a fun little pattern for a truck and a car made from construction lumber, so I figured I'd try it out.
It took about a week for me to make in my spare time(which was very sparse last week). I used a 2×4 for the bodies of the truck and car and some ripped down pine to make the wheels and accent pieces. All in all it was a fairly easy project. I got my wife to help me paint it and I varnished it myself with two coats in the wee hours of the morning when I got home from work. Here's a picture of it.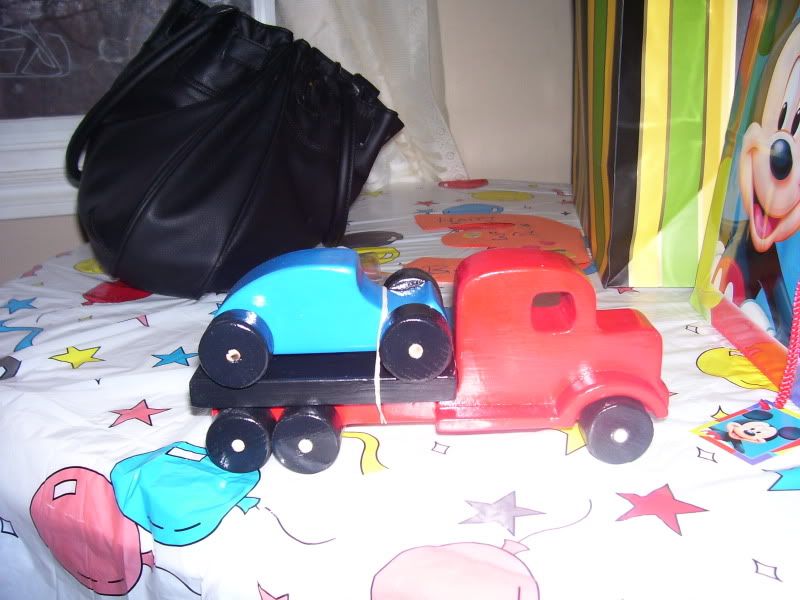 So a friend of mine saw what I was doing and liked the idea. I showed him a few more car and truck patterns that I had found on the internet and a book of patterns that I bought at a wood show. He thought "We could make these and sell them." So that's the idea that we got in our heads.
In our city we have a farmer's market every Saturday through the summer. It showcases all kinds of different things as well as local artists and crafts people. My neighbour is a wood sculptor and a member of the arts council. So he has a booth set up there in the summer trying to sell some of his work. He offered us a spot with him for the summer to try our hand at this. That gives us all winter to make some inventory. I really think this could work and if nothing else it gives me a chance to hang out with my best friend in my workshop making toys. What could be better. If we don't sell any we can donate them to a toy drive next christmas and making everything out of construction grade lumber will mean we're not really out that much money. It should be fun.
-- Another one of Santa's elves, only taller.
---