click the marker to see the address
As I mention on my home page my shop is fully equipped so let's take a little tour of some of my equipment and tools. Of course the main machine in any shop is the table saw, in my case it's the 10" Jet Cabinet saw with 50" rails and Exacta Fence.
I was taught woodworking on my Fathers Dewalt Radial Arm saw so it now resides in my shop against one wall/bench along with the miter saw and mortiser. It works out nice with all tied together with one fence system for all.
The Workbench is located just behind the Cabinet saw which also helps provide extra support for tose long ripping operations and provides plenty of workspace for assembly. Made from a slab of bowling alley and equipped with front and tail vise, it's plenty sturdy for hand plane and chisel work.
Behind the workbench is the tool storage cabinet and cabinet storage for the routers, drills sharpening supplies ETC.
Along with the Cabinet saw we have a smaller bench saw mounted on a rollaround cabinet which also houses our router table.
And of course we have to have a lathe so we have a smaller Delta to do our spindle work and dable a little in turning bowls!
Along with this stable of equipment we have the usual Joiner , planer, floor drill press, bandsaw and Dust collection.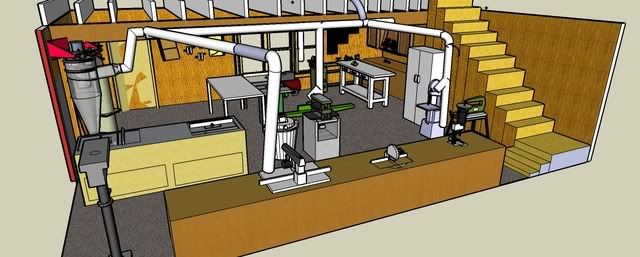 Well there you have it, not a big shop but functional.
Hope you enjoyed the tour and your welcome if your in the neighborhood to stop by and talk shop or wood or cars ? We always enjoy company!
Have a Good One,
Smitty
-- Smitty, Alabama, http://www.firstdesignwoodworking.com/
---