Well, I guess with my first blog entry I kind of set a precedence of being a scrounger so we'll continue with a little project I made for the garden.
Years ago I was given a huge cherry log. At 34" in diameter and 10' long it was quite a monster setting in the driveway but as with all woodworkers I had visions of a beautiful piece of furniture when the time came. Sawing it up with the chainsaw was a quite chore and a feat in itself but we manage to get some beautiful wood. After stacking and stickering the lumber in the loft for drying I was left with the slab cutoffs, Do I keep them or chunk them to the brush pile? The don't make quick decisions as 'Hast makes wast' so we stacked them along with the stored lumber. For years while waiting for the drying process and shifting these huge pieces around the LOML had started a bird sanctuary and garden and asked if I could build her some sort of bench.
DING! DING! Bells went off and we had a project for what might have been scrap lumber to the logging industry.
We took one slab and hand planned it smooth on one side and sanded the bark side . Then cutting off the ends. we fashioned the legs . The legs were tenoned into the seat at an angle and pinned through the seat top with 3/4" dowels. Everything was then sanded again and coated several times with Tung Oil then a Spar Varnish applied for outdoor protection.
Momma's happy as she sets contently on her rustic bench enjoying the garden and the birds!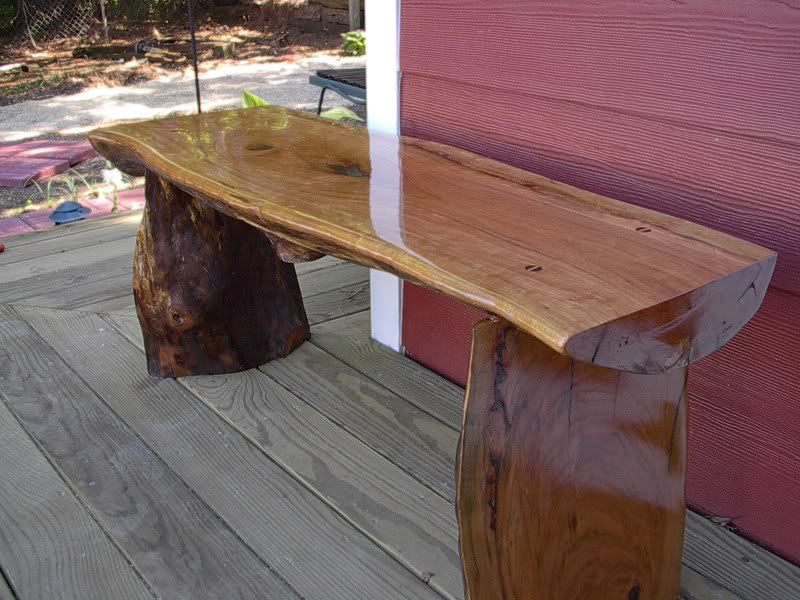 -- Smitty, Alabama, http://www.firstdesignwoodworking.com/
---