I know, it's a funny subject title but read on, we all have a little something to relate to this.
Have you ever been driving down the road or in the neighborhood and seen an old chair or table laying out to be picked up by the trash service or someone has just cut down a tree and the logs are laying at the curb to be pick up? Or how about the factory down the street that has a dumpster full of scrap lumber or pallets?
Or the friend that calls you and says he just cut down a tree in his from yard ( roots interfering with the foundation or sewer ) and wants to know if you need some lumber?
Thats where this project got started!
I worked for a local retail outlet that was located on a main thoroughfare and it was being reconstructed for a new overpass. During the process the overpass ramp walls were concrete proformed slabs which were trucked in from an out of town plant. Each slab , 10' x 5'- 8" thick , was load and stacked on a flat bed trailer using 4" x 4" and 6" x 6" skids. As they unloaded these during the project I noticed they would throw the wood skids in a pile and after a day or two the pile laid there calling my name, pleading for recovery. Since the site foreman traded at my store I asked him what would become of the skids? He replied saying they were supposed to be picked up by the supplier of the wall slabs but he was doubtful they would. When I asked him if he minded if I appropriated some for woodworking he said 'Take all you can haul away'.
I spent most of a weekend hauling them and a week of being sore from the lifting them but my efforts were not fruitless as I had visions of future uses.
One of the first project I built with them was the clock pictured which was featured in Woodsmith magazine and was a favorite if mine.
After many hours of resawing and planning , more time involved than the construction of the clock, I had a time piece to be an heirloom.
The wood is red oak , finished in Tung Oil and installed with a Hermel Mechanical Day/Date mechanism and now resides in my office.
As I started this writing, I mentioned 'Something all can relate to' so how about you ? Have you got the 'Fred Sanford scavager woodworker in you?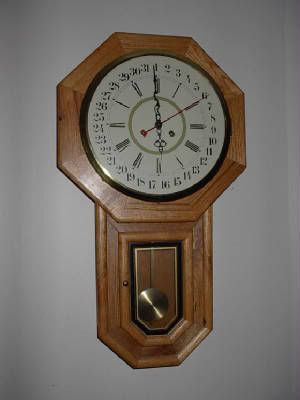 -- Smitty, Alabama, http://www.firstdesignwoodworking.com/
---