I had already taken some pictures of some of the tools that I discovered when removing the top layer of the collapsed shed. To preface this, the door to this shed was to open inward but it wouldn't budge before it collapsed because a ceiling beam had fallen and wedged itself against the door making it impossible to open. I couldn't get to the hinges and I was always fearful of kicking it in because I had no clue of how it might fall if I did get the door to budge. Through some cracks in the walls, the tools in the first three pictures could be seen prior to the shed collapsing.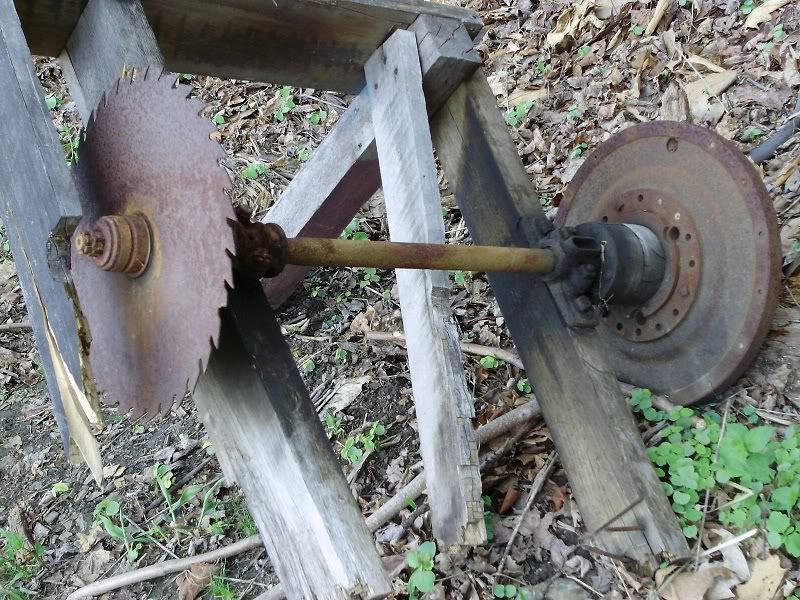 I believe this is some type of table saw. The walls had collapsed on top of this and the wood it was mounted to was in poor condition. I do not believe that this piece was mounted to what it was supposed to be mounted to. It seems to have been modified.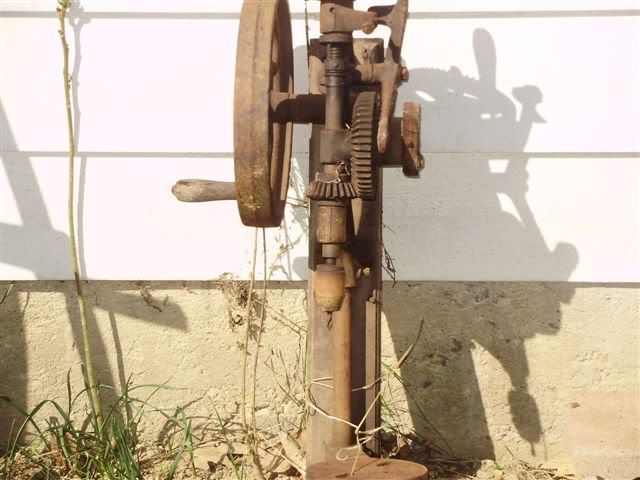 This drill press would have been wall mounted but again the mount was in poor condition when the walls collapsed. I haven't checked for manufacturer information yet. I have found all kinds of bits all over the place that I think would go to it. Would this thing have a chuck key?
A blacksmith vise was mounted to a counter/work bench that collapsed with the wall as well. I removed the hardware that had held it to a thick 4 inch board that served as the counter/work bench. That thick board was severely splintered and split in several places. Again, I need to check manufacturer information.
This cart was on the first floor of the shed as well but we did not know that it was in there because it was covered by canvas. It looks like someone made it from spare parts. The axles are threaded iron pipe.
At this point, you may be wondering why none of this collapsed through to the crawlspace. The reason is because the floor boards were protected from weather by 4'x8' sheets of 1/8" inch thick sheet iron. They had a good bit of rust and weighed between 250 and 300 lbs. There were 16 full sheets that I hauled to the scrap yard so by extrapolating the amount of recycle money I got and considering some other sheet iron things I hauled, I estimated the weight of each.The floor boards are solid and some of the best preserved wood from the shed. I wish I had pictures of the barn wood that we had organized but I never thought of taking pictures. I'll take some the next time I go to work on clean-up.
I never measured the perimeter of the shed but I would guess that it was about 24'x24' because of the way the sheet iron floor was configured. There was probably about a 2 foot perimeter where no sheet iron was present.
I cannot even begin to tell you how many hand tools were found. I never took any pictures.
The most intriguing tools I have found yet are the first two big items I have been able to pull up from the crawlspace.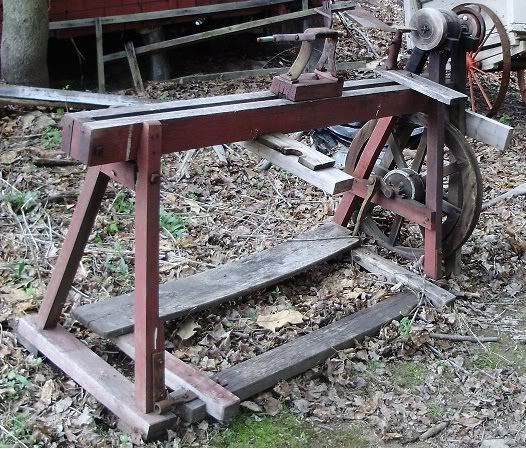 This foot powered wood lathe is just so cool looking. I have no clue how old it is and I don't know much at all about it yet. I just pulled it up this past Friday so I have done very little research on it. I did see a pic of something that bore a close resemblance to it when I did a Google image search. It was in a museum. I can only hope that it is that valuable. There was a thick layered canvas belt that was dry rotted attached to the gear system. It disintegrated with one push of the pedal.
This is an old buzzsaw that I pulled up. It was more awkward than heavy. I think that there should be some type of chain that is used to adjust the height of the platform which wood would be placed on. It probably was used to cut cord wood and my understanding is that it could be attached to a number of motors to run it. I sent these pics on to an owner of website about portable sawmills because that was what I thought it was. He clued me in and gave me a valuation via the photographs. I am curious what the participants of this site would value it at.
I do want to sell all of these items except for the cart. It still has some functionality for me as I could attach it to the back of one of my tractors to haul things from point a to point b. I like that it is deeper than the cart I got from Sears. Of course, if the price is right…...LOL!
There are 4 other sheds that are on the verge of collapsing. I wouldn't be surprised if they went with a good thunderstorm and some strong winds. In the pic of the lathe, you can see a standing wall sort of. The outside of the sheds were all covered by a shingle like siding that looks like red brick. That's good news for me because the exterior wall boards have protection from weather. One of the neighbors has lived on his family property for his entire life and he informed me that the previous owner of my property actually used to use the sheds for his target shooting. (Palm to the forehead.) The owner before that was the one who had all of this stuff. My neighbor doesn't recall ever being on the property to see this stuff up close. He's 63 and says that the sheds have been there as long as he can remember. To the best of my knowledge, my house was built in 1932 but it may be a bit older because I found a shoe box full of hand written receipts and some had dates as early as 1923.
I also found a number of automotive related things. If anyone has any interest in seeing those things, let me know and I'll post them as well.
---