Woke up at about 2:30 this morning and all of a sudden realized how to do the cloud lift in the lattice work (I do that alot – wake up after pondering a problem and know just what I want to do) – anyhow, it worked okay! That was the last big hurdle holding me up.
I refit the drawer runners so they wouldn't show, dry fit (again…seems like the 30th time) and started the inlay for the rest of the pieces ( which will take me awhile! ) I even found time to start the video tour of our shop (I put in the part showing one of the tables here). Then I had to go to work, but overall, it was a productive morning!
So this is what its going to look like ( I think!) – does this look proportionate?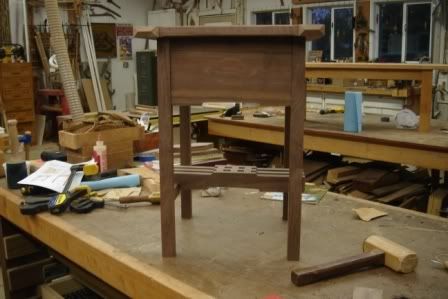 -- The Gnarly Wood Shoppe
---