I'm not sure I will be able to finish by the May 31 deadline – but I'm plugging along.
I wanted to combine the project with gifts for two different weddings this summer. I opted to make them from Black Walnut, with a "Rodel" kind of look. I think Walnut is regal on it's own, so I tried several methods to add the detail shown in the original design and ended up going with inlay of the same wood. I think it adds a complementary, but still subtle detail.
I book matched the tops and started gluing up, I'm not sure if the wild grain will detract from the overall look – but, it's too late now!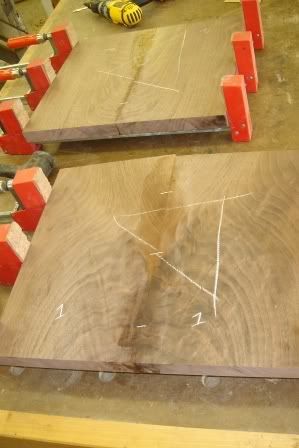 I laid it up for a concealed drawer – I think I will use the same inlay pattern on all four sides –
Instead of a shelf, I'm using a lattice-work to span the bottom stretchers – I am going to try to cut it to a cloud lift pattern…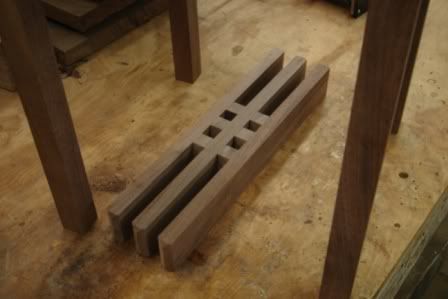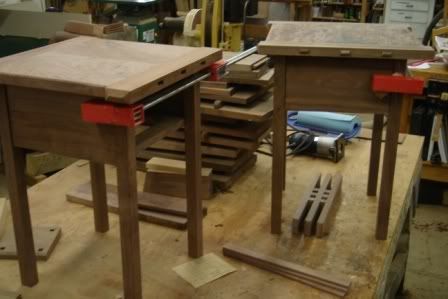 For the breadboards I flushed them with the top and extended out a bit (I just like that look) with 30 degree cuts on the ends and on the plugs concealing the screws. I laid out the tongue to be able to screw the breadboard into dowels (long grain).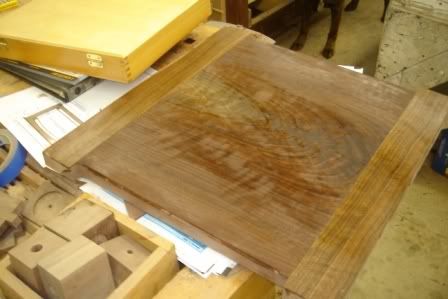 That's where I'm at so far – lets see, how many days do I have left…..Man, I need to get BUSY!
-- The Gnarly Wood Shoppe
---