This is my biggest project to date and longest blog. This dining room table and chairs are a modified combination of Stickley, Kevin Rodel and Rex Alexander.
As described in my Morris Chair blog, friends of mine were building a new home and they asked me to build them a dining room table and chairs in the craftsman style. I felt comfortable enough with my skill level to make the investment in lumber and was willing to take the time for the chance at a project of this scale.
I researched every book I could lay my hands on and presented to the clients a plan for a design with leaves that expanded the table to over nine feet. Their home is ranges in the large sq.ft. neighborhood with a dramatic window in the dining area. They asked that instead of a table with leaves, that I build a solid table to fit that area, otherwise, I had total design freedom. This meant that the table would be about nine feet long.
I modified a design used by Rex Alexander and came up with a plan, for a project this large, I decided that every step had to be carefully thought out to make joinery, glue-up, smoothing, and just moving the damn heavy thing, efficient. I wanted to use quarter sawn lumber for stability and to get the fleck in the grain. I fumed the whole project using 33% ammonia. I had a little experience with "fumed" projects, and was about to get a whole lotsa experience with the ammonia fuming process.
Off to the lumber store I went to pick up 500 bf of 8/4 quarter sawn white oak.
I've never used "store-bought" lumber before and was pleasantly surprised by how it didn't take much work to get it jointed, resawed and ready to go. It didn't look like that much lumber sitting all piled up, but since the client wanted the sap wood left in the project, ultimately I built the table, six side chairs, two end chairs, two Morris chairs, two ottomans and still have enough left over for a mantle – I'm here to tell you that 500 bf is A LOT of lumber.
So the project –
After milling the wood, I glued up the legs so I would have quarter sawn on all four faces. Then I built the framework – I designed the table so that eight people could sit comfortably with 20 inches of "elbow room" and at least 18 inches of leg space.
I glued up a long stretcher, and milled the end stiles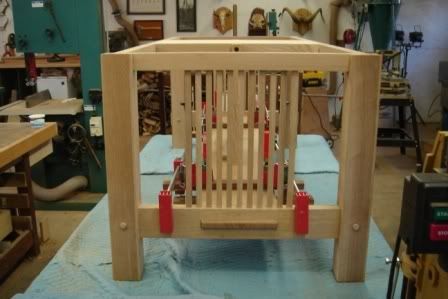 Cut and fit the middle stiles and cross braces ( I used 7 and 11 stiles for the entire project – lucky numbers!)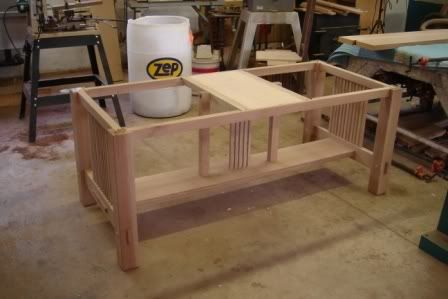 At this point, the frame was basically complete. I was ready to tackle the top. I think this thing must weigh 300 lbs glued up.
I spent a lot of time selecting and positioning the boards. Since the sapwood was left in, I wanted it to form some sort of logical pattern. I also wanted the top to have proportionate board widths throughout (I hate the looks of tops with varying widths of boards). I surfaced the stock oversized. I glued up the top in sections, I used biscuits for alignment, waxed each edge before glue up and made each section so that it would be no wider than my planer. Once I had all my sections, I planed to the final thickness and glued up the final top (only two pieces at this point). Using this method, I only really had to level the last joint after glue up.

A final check to make sure I didn't screw up –
At this point I wanted to put breadboard ends with some walnut accents. I used a method described by Kevin Rodel and placed dowels into the short grain on the ends of the top, routed down to my final thickness and glued the center and screwed into the long grain of the dowels.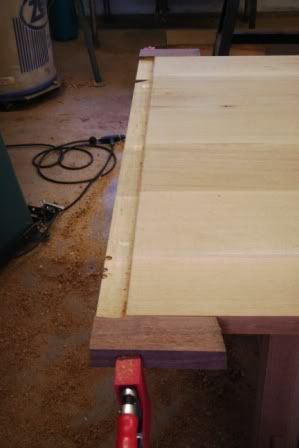 Client inspection –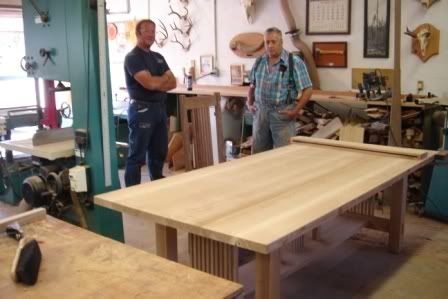 Final on the breadboards –
Sand, scrape and fit the breadboards to the top and SHE BE DONE –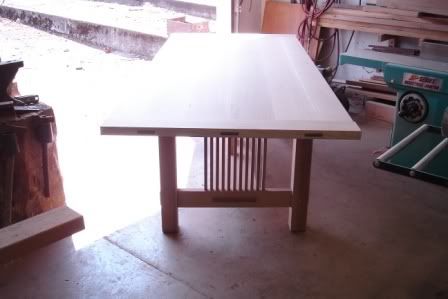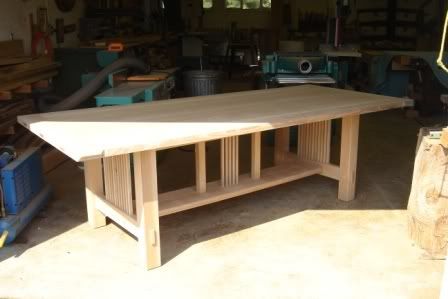 I timed the project so the table would be complete in the summer. I had to finish it outside, and I wanted as much heat as I could get for the fuming process.
Into the fuming tent –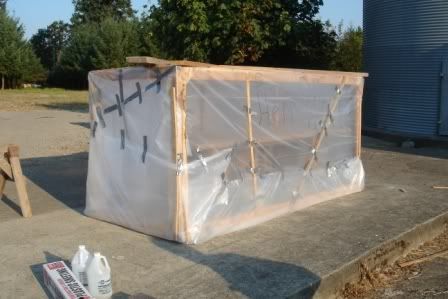 After fuming –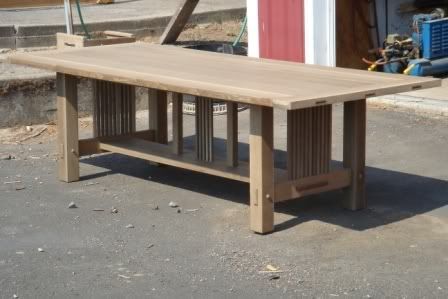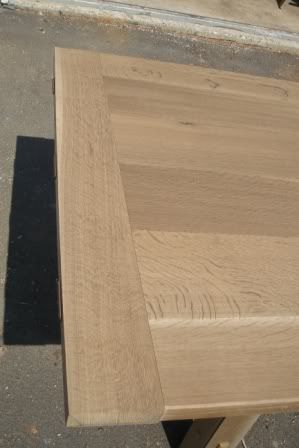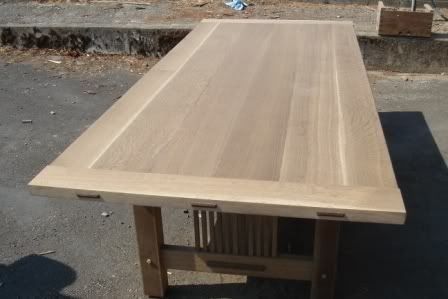 At this point I was ready for finishing. I applied 3 coats of sealer, and 7 coats of polyurethane and finally a coat of wax.
An un-fumed, unfinished, board for comparison –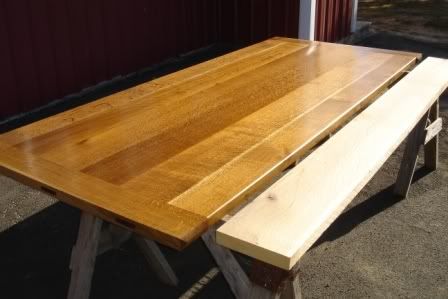 Finally, The table is DONE and ready for storage until the clients house is done.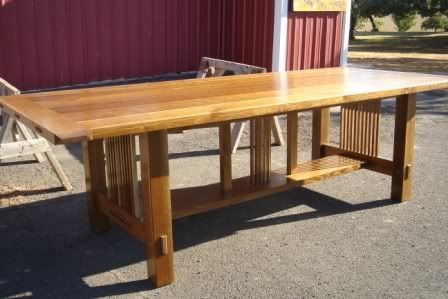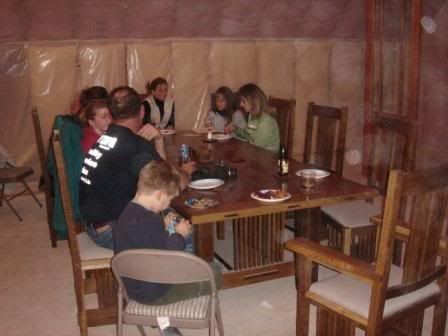 A celebratory drink for the finished project
As a side note – I stored the table all winter in non heated/climate controlled storage area (western Oregon), and the top bowed. I knew it would, I've had some experience with this before – that's part of the reason I used quarter sawn wood. It probably bowed an inch from edge to center – Once it got into the home and climate control, it settled back down to perfect after about 2 months.
We ultimately gave this project to our friends as a house warming present. They seemed pleased and grateful, and I'm happy to have my work in their home.
I'll post the Chairs in a separate blog and a final project when the thing is in its final place in their home and I can take some decent photo's
Schroeder
-- The Gnarly Wood Shoppe
---