My first Blog – Morris Chairs
This project started when a friend was building a new home for his family. He asked if I would hire build them a dining room table and chairs, (http://lumberjocks.com/projects/562). Having never attempted such a project I was all game. He had seen some fumed oak projects that I had done in the past and wanted fumed quarter sawn white oak. I told him to pony up for 500 bf of 8/4 and sit back for about two years til I got done. When I had finished the table and chairs (nine months later), I gave it to them as a house warming gift. When I ordered the lumber I had expected to butcher out the sapwood, but they liked the look so after the table and chairs, I had lotsa lumber left over. His house is based on a craftsman theme, so I suggested that I build them a matching set of Morris chairs, (and I still have enough lumber left over after this project to make them a mantel).
I decided on a modified Woodsmith design with traditional through mortise & tenon joinery. I wanted quartersawn on all four faces of the leg so I used a Stickley trick and used a locking miter joint.


My next issue was the through tenon on the arms – "the button" – I tried to cut them accurately, but they just ended up to sloppy. I used a modified Woodsmith trick to cut the buttons and then glue them to the top of the arm – a dirty trick for the purist, but whatcha gonna do – I was committed at this point. The way I cut the buttons, they appear as the tightest possible through tenon. I took the time to glue up quartersawn stock and cut the buttons (I admit this was just to fool the craftsman who looks at the piece, civilians would never notice a qrtrsawm button).


Cut & organize the parts


Glue up & Fit

The final inspection and product (after much sanding), the couple picked out a brown fake leather and I had the upholstery done.

Then I took a moment to sit and gloat with Cronk (this is about 100 hours into the project).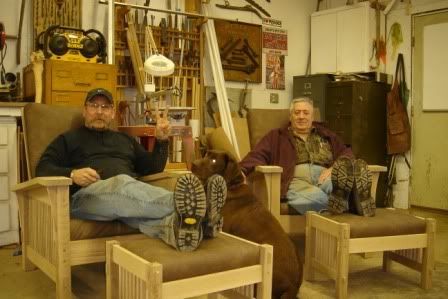 Into the 33% ammonia fume tent for 30 hours


Two coats of sealer, two coats of poly and a final waxing and buffing and I BE DONE! Ready for delivery! The colors came out especially rich Carmel color that will match their hardwood floors well. I'll post this as a project once I can take some good photography in their home. This was a GREAT Project. I want to build a couple more and plan on incorporating some ideas from Mark DeCou (square pegs would fit the style much better – and some carving as soon as my fingers heal ;)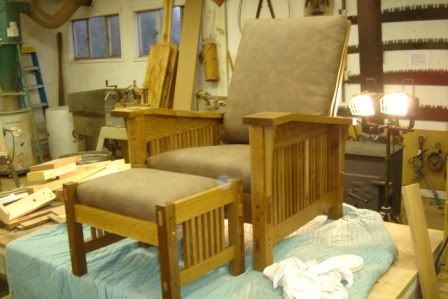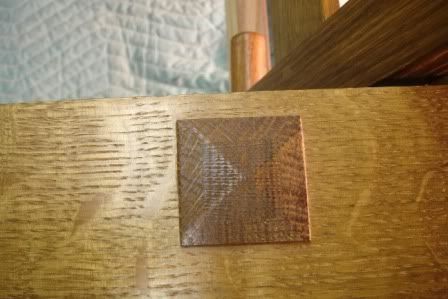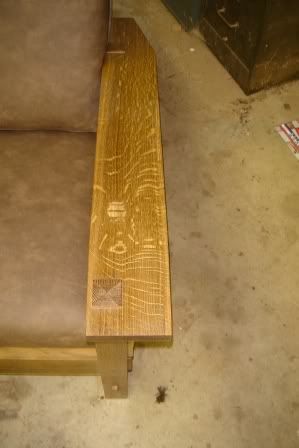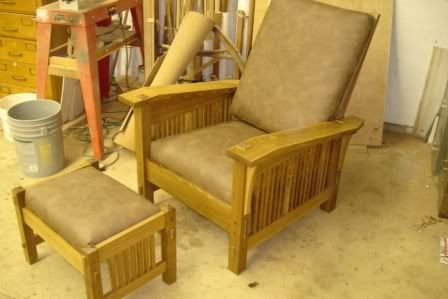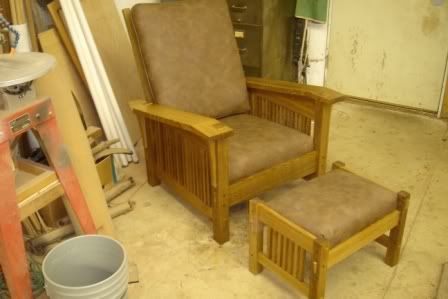 -- The Gnarly Wood Shoppe
---