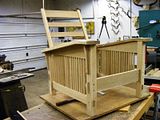 Okay, at this point, legs are glued up, rails, stretchers are cut along with all the mortices and tenons. I decided to make two chairs and ottomans to completion and then come back to the other two. The next step is to cut the stiles and tenon their ends. I planned for 3/8" tenons and cut them at a horizontal router, (although a good backer board and dado setup works as well).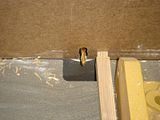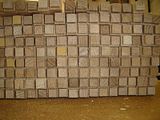 The glue up of each side – the tenons fit tight, so I bevel the ends even before I dry fit. It's a little tricky getting all the stiles in, but it gets easier, put all in the wide bottom piece first with just a spot of glue so they won't rattle later (I made sure all vertical grain was facing out), then hold the bottom piece on the bench and resting against your waist, set the top of the arm at an angle and roll on to the stile tenons.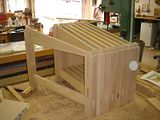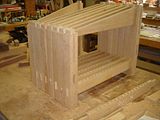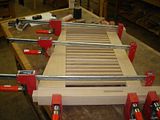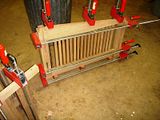 When the sides were glued up, I glued up the bottom part of the chair and added the arm and seat supports.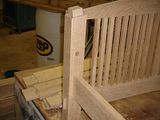 "You can see in couple of these pictures that the tenon is angled. Since the arms are angled, you have to either angle the tenon or the mortise – I've tried both and like angling the tenon better. The table saw works well for these big tenons."
With the bottom of the chair complete, I turned my attention to the backs – I had already cut the parts and dry-fitted (I do a lot of dry fitting)
At this point I'm ready for the arms. I use an old trick to cut the arms on an angle from a glued up board and block. You cut the top and bottom of the block on a 9 ½ degree angle (same as the rear leg tenon and arm slope).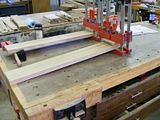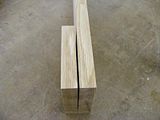 Next I laid out for the leg tenons and routed the bottom of the arm to fit over the stretcher about a ¼". I rarely am able to cut a through mortise cleanly on these arms. I use glued up buttons to cover the leg tenons. A dirty trick, but it looks much better than my through mortises. I glue up the button stock in the same way as the legs so that all four quarters show through – they really look end up looking great and experience has taught me that the first thing people do when they sit in these chairs is eww and ahh over the buttons.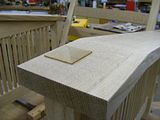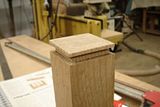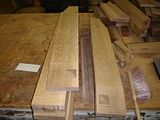 So the next thing is to pin all the joints with black walnut dowels. I listened to what Karson had to say about the Veritas Dowel maker and bought one – what a great tool! I sink the hole using a "lipped tip" Brad Point bit for a clean hole with no tear out, drive in the dowel, flush cut and sand.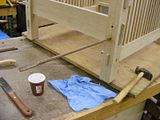 One last dry fit and onto the ottomans –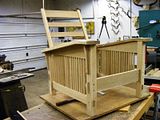 To be continued…
-- The Gnarly Wood Shoppe
---