…So I decided to take the plunge and make something for sale…on spec…I like the Morris chairs so that's what I went with. Always a timeless classic, clean lines, and fun to build! I brought forth the Visa and bought $3000 worth of white oak (this is my first venture into the "professional" arena). I planned on building 4 chairs and ottomans. I'm not going to quit my day job, but thought I'd give it whirl on the side…The first thing I can tell you is everything that everyone has been saying about going "pro" is true,…I've worked 16 hours a day for the last 3 months (literally, and loving it!) not complaining mind you, just validating everything that has been posted recently about going full time.
So at any rate, I thought I'd blog the process as I know the lovers of craftsman furniture like the Morris design and I thought it might help those who want to build along those lines. I'll try and go through the steps, but have really detailed info if someone wants help building one. First as I say I took the plunge and bought some clear, quartersawn white oak. Then picked a basic plan to go off of, ( I used the Woodsmith design as a starting point). Then started picking boards for legs, I wanted quartersawn on all four sides, so I used an old trick and glued up qtr sawn on all four faces (lostsa pix…that's what I like, so I hope it works for you as well…)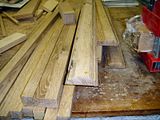 At this point I cut and glued up for the legs (16), I made them big enough so I could joint and plane them down to final size…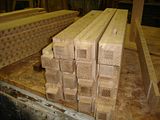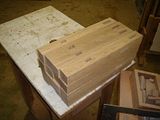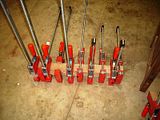 Once the legs are glues up, time to cut the mortices, I'm fortunate enough to have a dedicated morticer, so after careful layup (a mistake would be bad here) got them all done. I like through mortices as I planned to pin all the joints. My goal was to create a piece that had no metal whatsoever in it, and really, once you get going, through mortices mean all the legs are the same (you don't have to worry about left and right, back and front).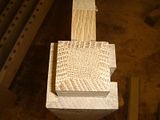 That is how the legs looked from the top, after gluing, morticing and cutting tenons.
At this point, I cut all the parts for 4 chairs and cut the mortices for the stiles.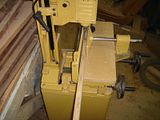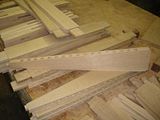 I start from the center, then put in as many stiles as I want, always keeping an odd number so as to keep it centered.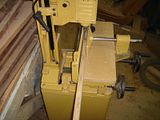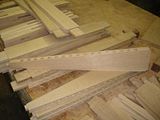 I am also fortunate enough to have a "Multi-Router", I cut all the tenons on this machine. The first couple of chairs I built, I used a table saw and it worked fine.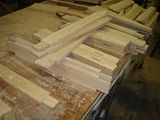 So begins the story. I hope to encourage all the woodworkers who are a fan of the "craftsman line". Some one on LJ has a tag that goes something like; "everything is difficult, until you know how…" This chair design was my personal test of my abilities; they are not super easy to build, but straight forward, very fun and rewarding.
To be continued….
-- The Gnarly Wood Shoppe
---