We have glued the breadboard, fitted it with Mountain Mahogany caps, and sanded…and sanded….and SANDED! (dark wood – lotsa sanding)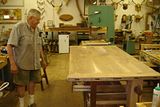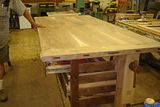 This is with the third coat of sealer – now six coats of poly and we have to think about moving it (man its heavy!). Worth the effort thought to make such wild grain in the table.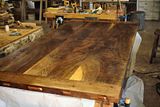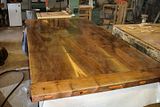 I'll post once more when we have the final coat and put together in about ten days.
Thanks!
-- The Gnarly Wood Shoppe
---