Stickley Done "Darkly"

This is a table we are building for friends, (based in part on a design by Rex Alexander). The table above is a similar one I built out of White Oak. We have this group of friends who have a "retreat" (basically a hunting lodge built by men – for men). Kinda looks like the interior was done by Cabela's, clearly the wives had no influence. It has a shower on the deck, six bedrooms lined up in a row, tile floors throughout, leather chairs and couch… rustic look through and through. At any rate, it's a pretty nice place, but in the photo album, for the past 20 years, there is always this crappy fold up picnic table for a dining table. Even after they built this new "lodge" there is that crappy little table…Well they very graciously invite Al & I over each year to hunt pheasants and never let us pay, so we thought we would build them a table worthy of the surroundings.
This is a mission style, similar to the one in the picture, but from Black Walnut, really gnarly Black Walnut and we have decided to carve several "appropriate" sayings on the underside. There are four in all…
"If you can read this…your Drunk …Go To bed"
"If you're going to be dumb…you gotta be tough…"
(these last two are in Latin – We're not going to tell all of them the translations)
"Don't sweat the little S#@$…" and "Bull#@&* baffles wisdom"
So – that's the story. We are almost done, so I thought I'd post the blog, and here it is as a step by step process…I hope you enjoy it!
Top is 1.75 inches thick,45 inches wide and 98 inches long – heavy!
Board Selection:
From the stash that Al has been hoarding for 25 years, they are ROUGH! And required a lot of work to get em ready.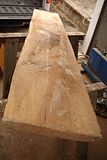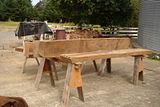 Next I milled the long rails, legs and short stiles…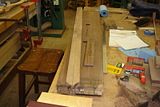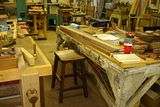 While I worked on the base Al got started on the top –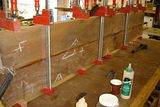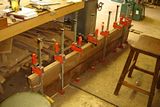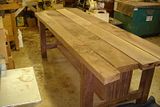 We designed the table so that we could glue up in stages. We made three glue-ups that would still fit through the planer. We left everything a little thick, then when we had three panels for the top, we planed them to final thickness. This gave us only two glue lines to clean up by hand. I ran a chunk of bees wax along the top of the glue joint so that any squeeze-out could be easily cleaned…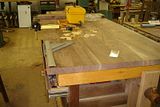 Then we trimmed the thing to the final length, and sunk 5 – 1" dowels for the breadboard. These give us some long grain to screw into, since we won't be using any glue on the outer 1/3rd.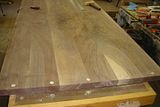 Now we were ready to route the tongue for the breadboard – The breadboard is 6 1/8" so we wanted a 2" tongue for holding power. I put a 30 degree taper on the ends of the breadboards and left them proud about ¼" to allow for expansion. I mortised out the slot for the B.B. and had a test fit!
I went back to work on the frame…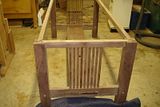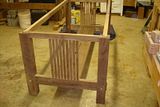 Fitting and cutting out the center to prevent racking, squaring and aesthetics.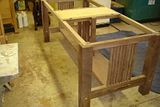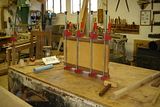 …And base is done with three coats of sealer…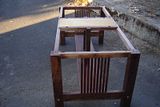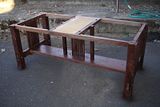 Where is the top…o-yea, carving the final details on the "pontification's"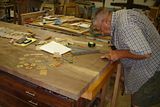 I'll finish the post with the final photo's in a couple of weeks. We are finishing with 3 coats of clear poly-oil, and seven coats of satin poly with a final dark wax.
Thanks for lookin! ( I gotta start building lighter projects!)
Schroeder
-- The Gnarly Wood Shoppe
---