Greene and Greene / Craftsman Barstools – Part Due
At this point I have all the parts cut out and am pattern routing the back legs. Unfortunately, I have no formal training and have to re-invent the wheel with every step. I cut a blank for the back legs on the band saw staying ~ 1/16" outside my line. I built a jig to pattern it with a lower bearing bit. Route one side – then switch to the other side, ala Taige Freid style – I kept having problems with the second cut being shy of the pattern ….problem: I had final size on both sides of the jig – not correct! – (for those of you who haven't done this before), MAKE one side just fit the pattern and route to final size on the other side – I can't believe it took me 15 legs to figure this out!!! More sanding for me….
Here is a rendering of the jig (rough – without the hold downs) reference and register only one side – make the other side fit the jig – nuff said!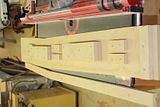 Once the front and back legs are cut out to final size, I referenced a layout on a master pair and cut each mortise dutifully and repetitively – Once you start, don't stop until they are all done, the less times you set up, the more accurate the final.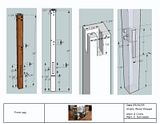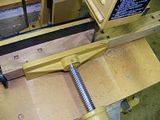 It pays to cut some filler blocks for mortising the 45 corners – The blocks will hold the wood and keep the bit from tearing on the adjoining mortise.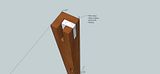 Next is the Stiles and Rails….
-- The Gnarly Wood Shoppe
---