Greene and Greene Accents on a Craftsman Style Barstool – a batch of 8

So begins my blog on these G~n~G barstools. I spent about 8 months (part time) working on these–from design to done – and would hate to guess the actual time per stool. I had a lot of learning curves with new techniques. The places I tried to incorporate the Greene and Greene accents; fading indent, bull-nosed feet, stepped footrest, the pillowed plugs and the scalloped crest rail forming a tsuba. It's hard to put in enough accents to make the piece look sophisticated without going overboard on the thing. If you're going ugh~ the oak is to white for the ebony plugs, the chairs are just done and ready for the ammonia fume tent, the oak will darken dramatically and the ebony will compliment the color well – I've done some experimenting and it's a nice contrast.
I used White Oak because that's our local favorite. I built these for my good friends and most of their furniture is also done in fumed white oak.
I'm starting the blog as I complete building the set of eight, but before I've fumed and finished or carved the seats.
I'll put them in the fume tent tomorrow and let them cook for 32 hours in 32% ammonia. Then I'll start with the finish – a tedious little artistic undertaking in itself!
The Project:
First I designed the stool in Sketchup http://sketchup.google.com/3dwarehouse/details?mid=da0e921b615310467d9ca9bd7f5026ba , printed out a set of plans and commenced to building a prototype http://lumberjocks.com/projects/20339 . I posted the proto and got some good feedback from a lot of Jocks to adjust for the finals.
Next was Jigs and parts….lotsa lotsa parts.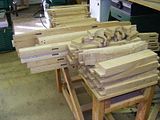 I'll try and go through the whole process. Thank God I talked Cronk into cutting all the rough stock – I really hate that part –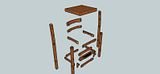 I'll be back with the leg and jig construction…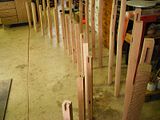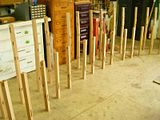 -- The Gnarly Wood Shoppe
---