click the marker to see the address
My shop is in the basement, as you can see, and yes, I share space with the washer/dryer, which makes good dust collection a necessity! Fortunately, the basement has higher ceilings than the rest of the house at 8 feet from the floor to the base of the joists.
One day I'll want to add some insulation and a dropped ceiling to muffle the noise, all in time…
Dust collection is currently handled by a combination of my Rockler Wall-Mount DC (which is pretty good for a tool at a time) and my Ridgid shop vac. Still need to expand the ducting to include the lathe, Miter saw, Jointer, Router Table, which will all be on the primary 4" trunk, each tool will have its own blast gate to optimize as much as possible. The secondary trunk is for the drill press and bench-top DC, supplemented as needed by my shop vac.
It's 11×26, and I don't have access to all that space due to sharing, so layout and organization is key to ensure everything fits. I've been working with SketchUp to lay it out, here's the idealized version:

You'll note the big wooden thing right in the forefront doesn't exist… it's my shop-designed air cleaner that will be built one day… if you're a SketchUp geek like me and want to see it in more detail, you can download the model from the 3D Warehouse here
I've still got some things to work out, namely improved dust collection, figuring out a better solution for lumber storage, etc… but it's all a work in progress, right?
Here's the current configuration for your viewing pleasure…
Workbench:

And my Router Table. Still need to get that one drawer front finished!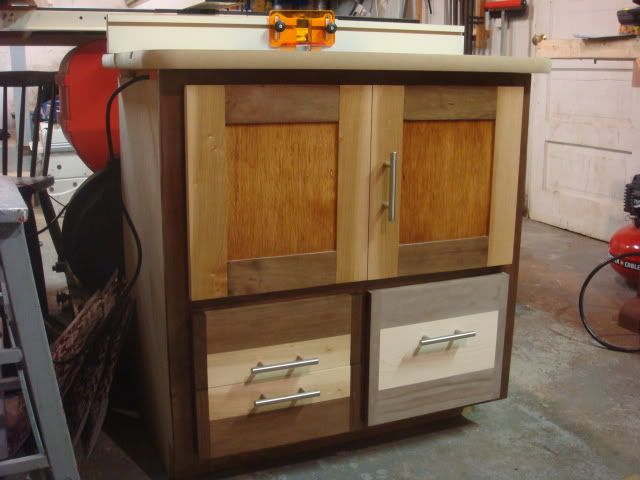 Key tools:
Tablesaw: Craftsman Hybrid Cabinet Saw, 30" Biesemeyer fence
Miter Saw: Hitachi C10FCE2
Lathe: PSI Turncrafter Pro Midi
Jointer: 6" Jet JJ-6CS
Router Table: Shop-made, Rockler Top/Fence, Craftsman 2hp fixed/plunge base combo
Drill Press: Antique, benchtop
Hand Planes: Stanley Handyman Jack(#5) and Smooth(#4), Stanley 127 (Liberty Bell), assorted antique wood planes, assorted block planes
Planer: Ridgid 13"
Thanks for visiting!
-- Ryno
---