A couple of days ago, I got an email saying "PurpLev posted a new forum topic: Laminated Maple Tops for Free in MA!-10 Bowling Alleys being taken out". here's the original blog post
Of course, my interest was piqued… I saw that PurpLev was going to have to pass, as he had no way to get a slab of that magnitude into his car, and I knew I wouldn't be able to either… So, I figured I'd see if we could help each other out.
I got in touch with PurpLev, commandeered the wife's mini-van, and we were off.
Arriving at our destination (after battling rush-hour Boston traffic), we laid eyes on a sight that would make any LJ drool…
All free for the taking…
We found a couple of sections we liked,
and PurpLev set about cutting the 16 foot lengths into more manageable sections.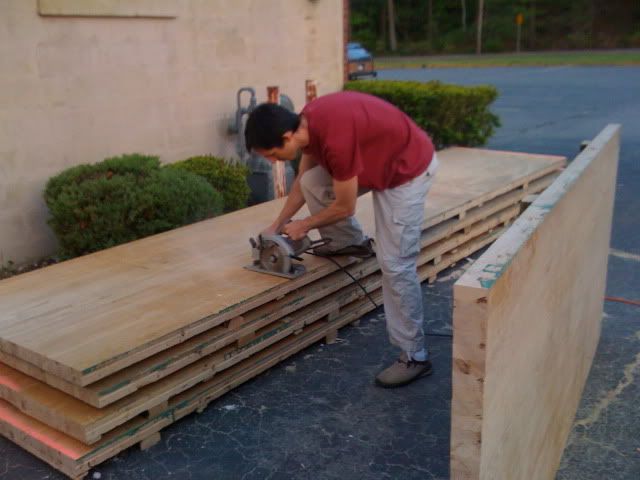 It was a bit of a challenge… the depth of cut of Purp's circ saw was about 1/8 inch too short, which meant flipping and cutting from the back side.
And we hit a few nails…
But finally managed to get two full 16 foot sections into the back of the van.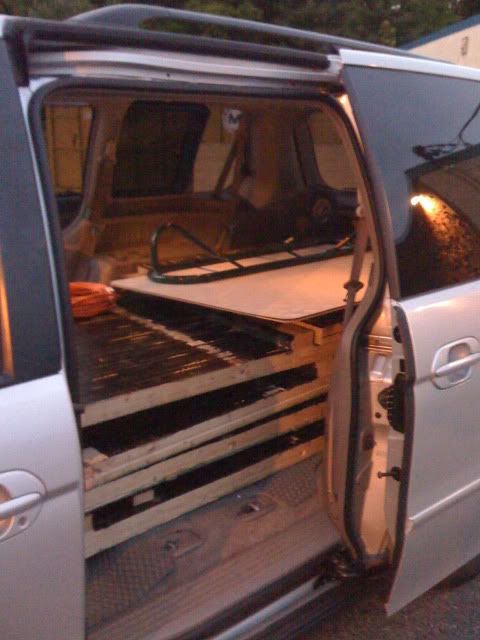 What a score! Honestly, the most challenging part of the whole endeavor was man-handling the 8 foot section into Purp's (no-disrespect!) crowded workshop.
Keep your eyes open… we'll see what ends up coming out of this.
And, riddle me this… How many LumberJocks does it take to drag a 3 foot by 8 foot section of hard maple out of the back of a minivan and into a crowded workshop?
-- Ryno http://shawsheenwoodworks.com
---