Figured since I started, might as well share my ongoing project to get these two cheapo planes into serviceable condition!
After perusing the various blogs about plane restoration here on LJ's, I decided a simple first step would be to get 'em taken apart and do a first round cleaning.
I looked at David's blog, and though I was intrigued by electrolysis as a rust-removal process, I thought to myself "Isn't that just really an electroplating going on? Is it really getting rid of the rust, or is it putting a new layer of steel on top?" I may be wrong, but that outlines exactly how electroplating is done, in this case using rebar instead of Nickel, chrome or gold.
I did, however, figure that I'd give the Kaboom a try, and wow. Instantly years of grime just melted off these planes. I took them apart, and put them into a plastic bucket lid, sprayed the heck out of them with the Kaboom, and gave them both a quick once over with a toothbrush, wiped them down with a paper towel, and wow, I was impressed with the cleaning power of Kaboom!
Here's the larger of the two: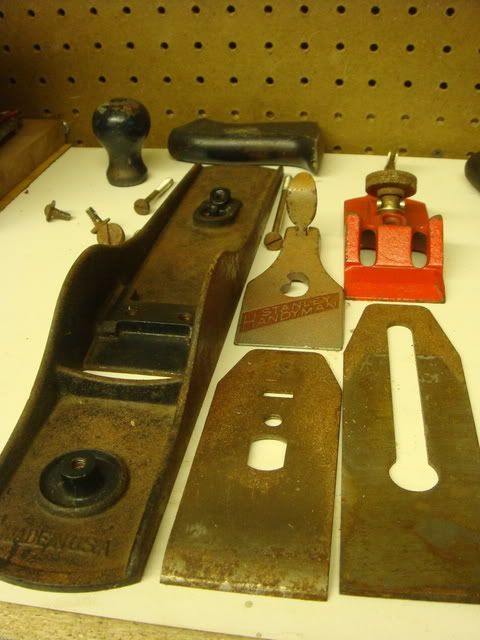 And the smaller of the two:

I was shocked to find red paint on the logo, and frog, and a metal colored lever cap!
I'm beginning to think that the smaller one was in a fire or something… the front knob is all charred:

and the handle in the back looks like something melted into the finish: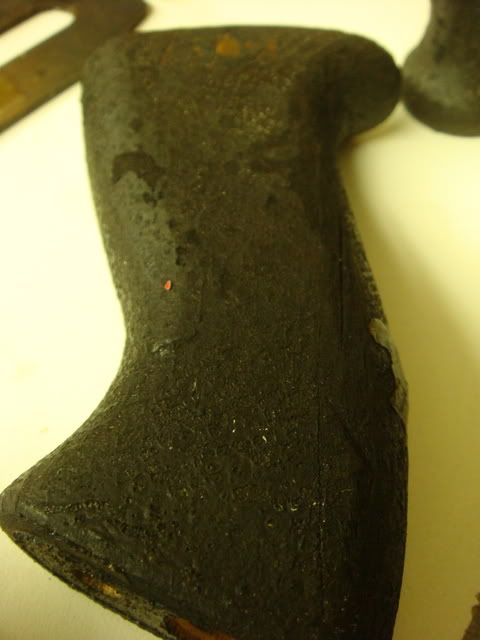 I had luck using the method that grumpycarp recommended when I flattened the sole of my little plane, so I'll probably use that again, and since we're not talking serious heirlooms or valuable planes, I'll likely just use the old "elbow grease, Steel Wool, Sandpaper and WD-40" method for getting the rust and such off.
I might end up "re-jappanning" them, probably again using grumpycarp's recommendation, and I do have a chunk of rosewood that I need to make into something, so I'll probably turn a new knob for the little one, and I might just try my hand at carving a new handle too… it's a bit sloppy in the fit, and it would be a fun project.
I'll post progress along the way
-- Ryno http://shawsheenwoodworks.com
---