I was just about to start on the first glue up of the walnut entertainment center I'm working on… well, needless to say, I didn't end up finishing.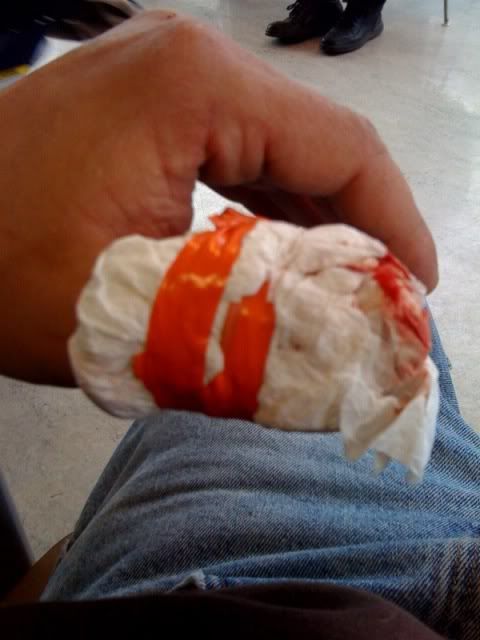 One of the tenons was about 1/32" too long, and I was just in that "finish quick and get on to the glue-up" mindset. One inattentive cut, and I ended up with a razor-sharp 3/4" bench chisel through the back side of my thumb.
I put this up as a reminder…BE CAREFUL!
Whenever I am using my chisels, I always think to myself "If I slip, is my hand in the path of the chisel?". It's not like setting up a table saw, laying out a cut, etc. where the process forces the safety issue into your thoughts. Hand tools are easy to grab, use for 2 seconds, and move on. But those 2 seconds need to be as important to you safety-wise as the time on the big power tools. Every time you use a chisel, make sure you're not in it's path!
Seven stitches, and two days of lost shop time, not to mention the fact that I came within a millimeter of severing a tendon, and it seems like I've lost all the nerves on the back of my thumb from the knuckle to the end.
Be careful out there, my fellow Jocks!
-- Ryno http://shawsheenwoodworks.com
---