Greetings all,
Wanted to post a little about the recent project. It's not done yet – but wanted to go over some details here.
First: Project is an early 1900's dining room table. Needed some repair work and needed two leaves built since the old ones were not original and not well done. Client wanted me to refinish the entire table as well. He also wanted a color match.
I decided to do the leaves first so I could do the color match before I stripped the whole thing. After the leaves were built, the next step was the color match. That involved several steps:
1. Sand new leaves to 80 grit (cheated with a Perforax drum at a friends house).
2. Coat with General Finishes Espresso (water based) stain – card scrape to remove most of the color.
3. Sand again with 80 grit and then 120 and 150 (all by hand here – no pig tails allowed).
These steps established the black that existed in the grain of the wood. Next was color. I did a custom blend using General Finishes oil based stains. Turned out pretty nice.
Next step was to put some shellac on. Given that I'm not too familiar with shellac I made some postings here to get some feedback. After a few great comments I tested and went for it.
With the shellac I did the following:
Note: Shellac used is BT&C Amber flakes.
1. 1lb cut two coats.
2. Sanded with 320 after the second coat.
3. 2lb cut one coat.
4. Sanded with 320.
5. 3lb cut one coat.
6. Sanded with 2000 grit wet (with BLO).
7. Hand burnished the entire top (with the palm of my hand).
8. Buffed with cotton t-shirt.
The end result of one of the leaves is here. These pics aren't great, but will suffice for now.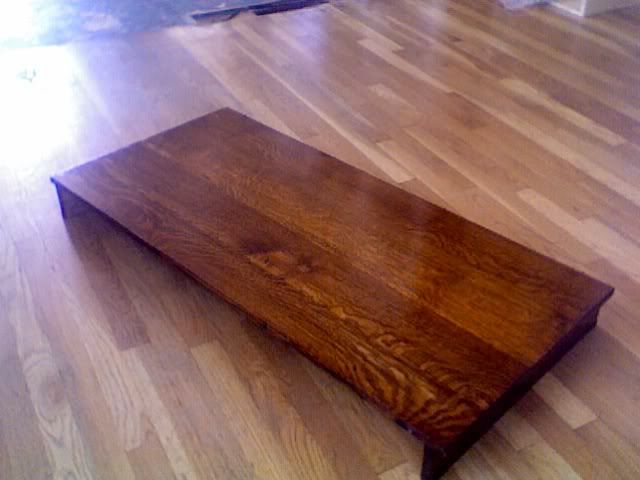 More to come….
- ryan
---