Several months ago I decided I was going to build a cedar strip canoe. I picked up Canoecaraft from Bear Mountain Boats and decided on the 15' Ranger. I drew out the station molds in October and then had to wait until after Christmas before I could start making any sawdust. In the last two weeks I have made the strongback and have just about finished the forms.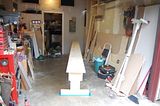 I set the forms up on the strongback with spring clamps and then checked the entire area to be stripped for any high spots or problems. There are a few bumps to sand out but nothing too bad for the most part. It's quite a thrill to finally set the forms up and see what the canoe is going to be like. It's a bit of a tank but I chose the Ranger because it is a good load carrier and it would fit in the garage. I was looking at some longer boats but decided to put a wall in the garage to avoid any spousal disputes :)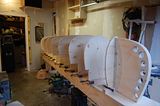 It has been a lot of work just to get to this point. I guess the average first time builder puts between 150-200 hours into a canoe. Most builders say about half that time is spent scraping, planing and sanding so I imagine I'll have a good idea of what cedar tastes like in the near future.
-- Among those whom I like or admire, I can find no common denominator, but among those whom I love, I can: all of them make me laugh
---