Well, I was really looking forward to milling a log or two this weekend, but due to technical difficulties, it did not happen.
Started off with a cabinet making class Sat morning, and after lunch I went to my day job site to see what was left from the scrap give-away that started earlier in the morning.
Lucky for me, there was still some good stuff for me to pick up. I got a couple of work tables, some roll around carts, and some trays. Was able to get it all to the shop and unloaded without incident.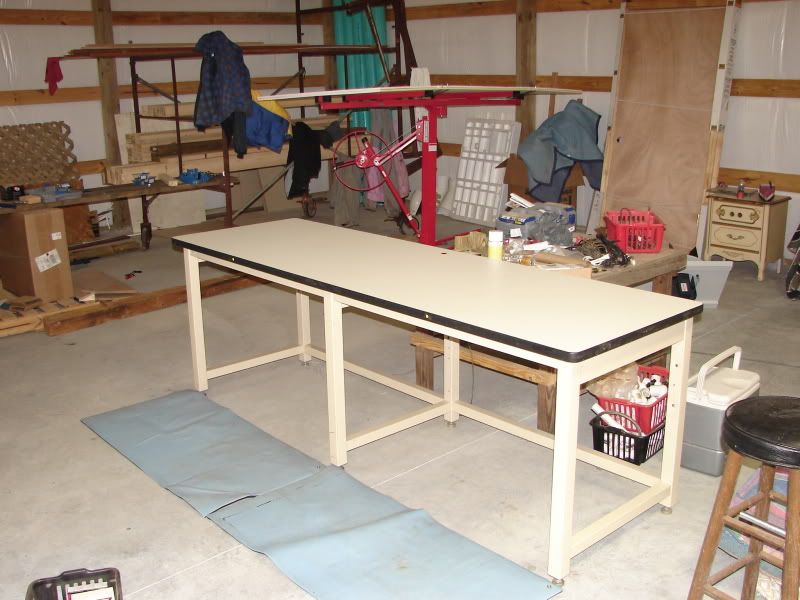 Rather than start the sawmill project with just a couple hours left, I did some odd jobs and anxiously awaited starting the sawmill on Sunday.
First thing that needed to happen for the sawmill project was cutting a few small trees. Pulled out the chainsaw, but could not get it to start I pulled and pulled the cord, but no dice. Like there was no gas. Checked gas and it was low, but not empty?? Added gas, pulled til I couldn't – took a break, then decided that for 3-4 small trees, I would just go the manual route. Walked back to the shop and started looking for one of the two bow saws…and looked…and looked. Finally found a keyhole type saw that might get the job done. Cut down two trees….took a break…cut down another tree…break…did I mention it was around 100 degrees? Finally got all the trees cut, and went back to the chain saw. (I need to limb the "test" tree for the first sawing.)
Tried to start, pulled and pulled, but still no luck. Dumped the fuel, mixed up a fresh batch, checked spark plug, and pulled some more. Got a little sputtering, but nothing to write home about. Then I started looking at the switch settings and thought that something was funny. I have been running this chainsaw for two years, but today for some reason, I have been trying to start the saw in the "run" position instead of choke. Put the switch in the choke position and the saw starts on 2nd pull – like usual. So, probably wasted 2 hours between trying to start the saw, looking for bow saws, taking breaks to catch my breath – not to mention the aggravation factor. I thought I was too young for senior moments, but
Ok – my bad, and I still have plenty of time to clear the area, level, and set up the sawmill. Went to grab some lunch and pick up a few items. Took twice as long as expected…
Cleared away the brush, and went to change out the grapple with the bucket for leveling the dirt. I have a skid steer attachment, so the grapple comes off and the bucket should slide right on. SHOULD slide right on. Repeated attempts, but the bucket would always fall off one side as I lift it up to lock it in. Now what?? I fiddle with it for a while, then notice that the left and right "skids" are not at the same angle to each other. As I try to hook the lip of the bucket with the left skid, the right skid is pushing the bucket forward too much, and both skids cannot latch into place. I tried attaching high, low, on the dirt pile, on 1/2 the firewood pile. I tried man handling the bucket onto the skids, etc. Took multiple breaks to rest and steam about the whole situation. LOML drives up and asks what is taking so long . Explain (calmly ) the issue and get her to operate the controls while I force the bucket into place. After a few trys, I manage to have some success and we get the bucket attached.
Now it is late afternoon, and time is short. I am highly aggravated and wanting to mill some wood, but if I start on the leveling, I know I will push to get everything done and process at least one log. I am tired, hot, and mentally questionable. I decide that I might end up getting hurt if I try to make it all happen, so I packed everything up and put it away for another weekend. Bummer.
Here is the clearing and the test log. They will be there next weekend…I hear we expect rain ;-)
-- rick
---