---
I had the intention of making this platter server for my wife a few years ago, but other projects always came first. Our dining room table has a few decorations: a bowl that I turned (for rolls but is currently filled with decorative balls that she bought at Pier 1),


and a set of 6 charger plates. In addition to the items on the table, I also made her the table for Christmas one year.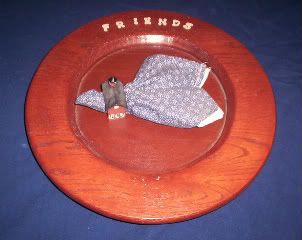 Everything is made from red oak and poplar
Now onto this project.
When I was growing up, my family would spend holidays with both of my grand-parents on a rotating basis. I remember seeing and smelling the turkey or ham sitting in the middle of the table on my grand-mother blue and white platter (I can smell the turkey as I am writing this.) When my grand-mother passed away my mom got the platter from her dad.
When I retired from the Navy and finally had a permanent address, my mom decided to give my wife and I my grand-mother's platter. The colors match the other blue and white items we have on our table, but it was always missing something. When I saw the "Serve it up with class" category of this summers contest I decided to finally dust of this project idea. The timing is perfect because this weekend is also our 22nd wedding anniversary and I finished this just in time.
This one is also made of red oak and poplar so that it matches the rest of the dining room set. I tried a few new things with this one in that it is my first segmented piece and I tried my hand at carving the decorations on the outer edge of the oval. It was enjoyable, but I don't think that carvers among us have to worry about me taking away their business. The I stained the carving walnut to make it stand out, and the rest of the tray is stained red oak to match the rest of the dining room and finished it off with a couple coats of Minwax poly.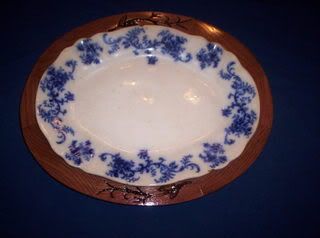 It may not be much, but I think it gives grand-ma's platter a nice background on the table and I got to think she would be happy to see that it is getting some use. Oh yeah, the wife likes it too.

-- Brian, Lebanon PA, If you aren't having fun doing it, find something else to do.
---
---
---
---