---
My home studio is a big reason of what brought me back into wood working.
My first project was a desk for the mixer. I used pine boards, and it's pretty bad. And the monitor shelf sits too high. They need to be at ear height. I have designed a new desk that I'll be working on after a few other things that I need to finish.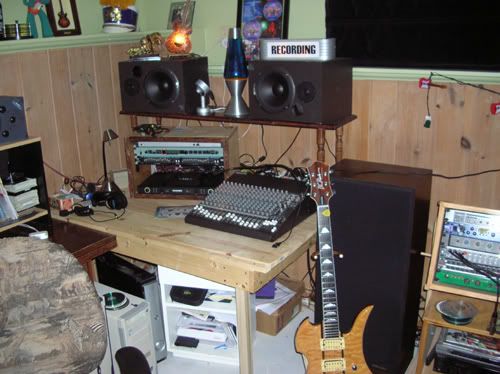 I needed a studio rack, and even the most basic unit was a couple hundred bucks, and they were just wooden boxes. And I started thinking about the various racks I had seen, and combined what I liked into a single unit.
This is a dual bay rack that tilts. I use a dowel as a locking pin. The lower bay's are rack size, to be used for power amps, and extraneous gear.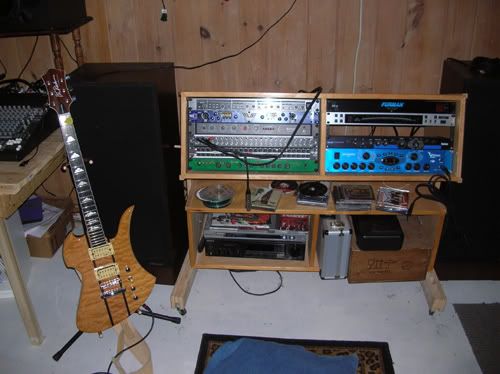 The next unit is a studio cubby. 2 rack bays on the bottom, and a 16 inch space between the cubes, and the bottom, which is perfect for binders, studio logs, manuals, and whatever. The cubbies are used for mic's, CD's, and patch cords.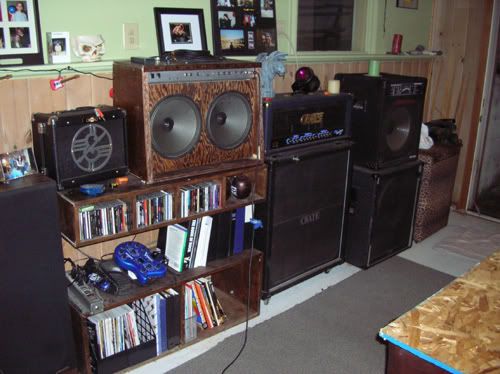 Sitting on top of the cubby is the 2×12 Combo amp that I made out of an old tube amp head that I had. I love the look of it, but I think I'm going to redo it, with hand cut dovetails, and I'd like the speaker front to tilt back a bit more.
Oh, and what studio would be complete without a bar?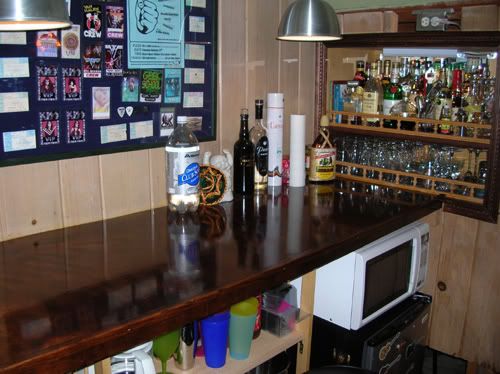 The recessed cabinets are lined with mirrors in the back, and have low watt halogen lights.
That is pretty much it, except for the old pool table which isn't shown. It's a fun setup, and i really love improving it a step at a time.
-- When my wife ask's what I have to show for my wood working hobby, I just show her the splinters.
---
---
---
---