---
This is a portable cabinet to carry horse grooming equipment from the barn to horse shows. The box must be rugged, and will be exposed to outdoor conditions. It gets thrown in and out of horse trailers so it has to stand up to abuse. It has ropes with hooks to hang from stall bars when grooming the horses. It looks like a "horse briefcase"!
It is constructed of Red oak wood recycled from bookshelves.
The carcase wood is planed to 5/8" thick, with Dovetailed sides to top & bottom. Drawer is 3/8" thick sides, mitered with splines, 3/16" plywood bottom.
Hardware consists of ball latches keep top and bottom lids closed, standard butt hinges and a Leather lid handle.
Net weight is 29 lbs.
It is finished with gel stain and 3 coats of spar varnish.
Overall I like the look. Piano hinges would be better. (hinge screws will probably pull out)
Battens are glued to face – may come loose with extreme humidity changes.
Too heavy – need to build out of ligher wood like pine.
I am going to add another drawer on top, another shelf in the middle, and chains to hold up bottom lid as a shelf.
Other photos:
Glue up: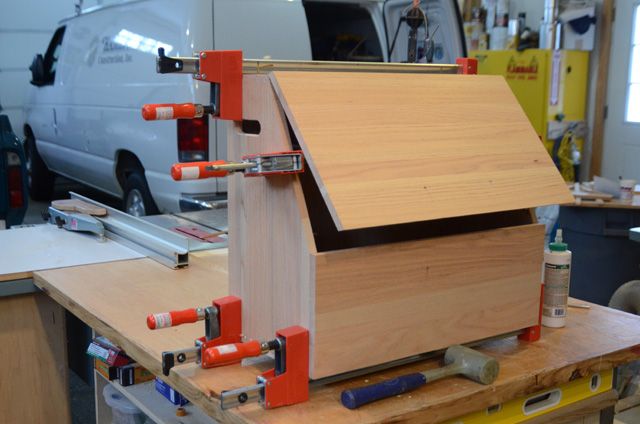 Drawer with miters and splines:

Thanks for looking.
-- JJ - Northern Illinois
---
---
---
---