---
I had some questions about this board from my other post so I figured I'd just make it a project of it's own. I had more pictures of the build, but unfortunately they were lost thanks to my upgrade to ios 5 last year (thanks apple).
My best friend is a huge Zelda fan, so I decided to build her a board for her birthday.
The first step was the design. I didn't really have a plan, so I sat down with some graph paper and drew it out to minimize the waste with the size wood I had to work with. So how to minimize waste? The answer is a ton of glue ups! I think the total count was 13 different glue ups.
For the individual triangles, I first glued up 9 blocks in 3 different rows. 4 on the bottom, 4 in the second row, 2 on the top row. I did that for 3 maple and 1 walnut triangle. I then went to my freshly build cross-cut sled (thanks eagle lake woodworking) to make the equilateral triangles. After much trial and error, I had them all the same.
Next was gluing up the 4 triangles to make one big triangle.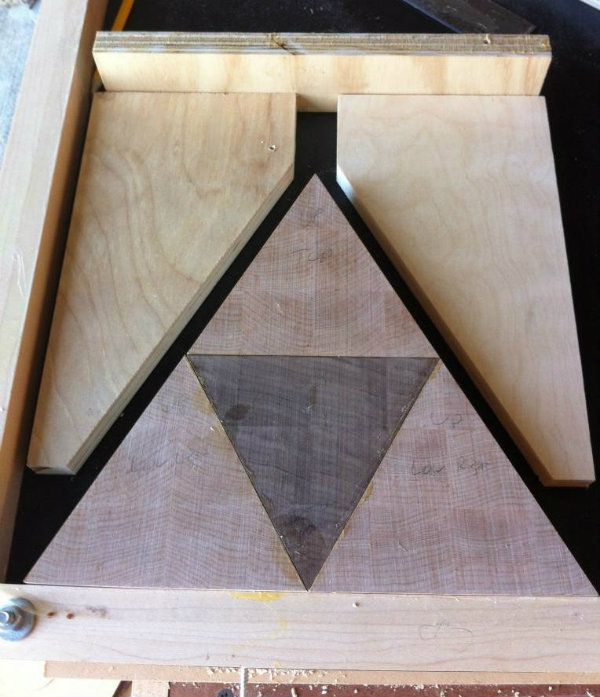 I then glued a bottom row of walnut on the triangle. Next was the large walnut triangles to surround the main triangle. These were glued up in rows and then cut on the same angle as the main triangle. Here's the glueup.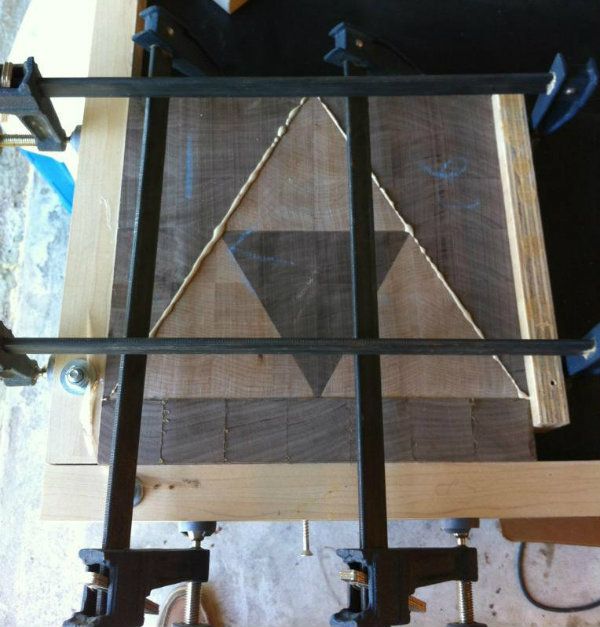 The last step was just a walnut border around the entire piece. The grain orientation was important to remember during all the glue ups.
The finish was first mineral oil, then a mineral oil/beeswax combo.
Here it is after the first coat of mineral oil.
If you have any questions, let me know!
-- Brian
---
---
---
---