---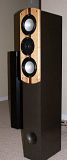 Finished a couple of speakers in the last few weeks, this one was the most interesting of the two. The front is hard maple with inserts of red oak and walnut, no stain, just many coats of poly.. The base of the cab is 0.75 MDF.
Mistake #1, if you are going to make inserts like this off center, make them far enough off center that it looks intentional.
But the do sound nice, Drivers are all HiVi, crossovers are custom.
-- Making the best of what I have!
---
---
---
---