---
Before I could start on a new project, I, like many others, found it necessary to create and manufacture Jigs and helpers that cauld make the project production go smoother without annoying instances of frustration and aggresive thoughts.
Banding Clamp Aparatus or whatja ma Caul it.
Has this ever happend to you? How many times has that vulgar word "F*" it come into play?Very frustrating and the root cause of many marriage consternations. The darn band won't stay at the height you want it when trying to tighten the band clamp.

Yes there are creative solutions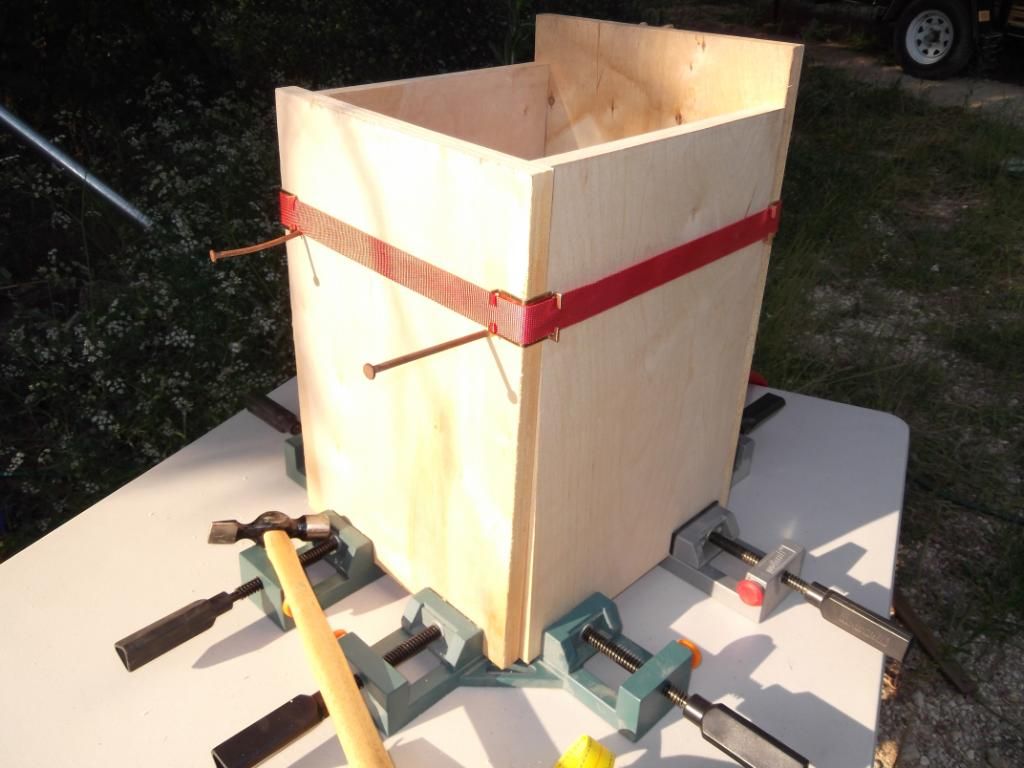 But here's the ultimate fix


Now tightened up just where you want it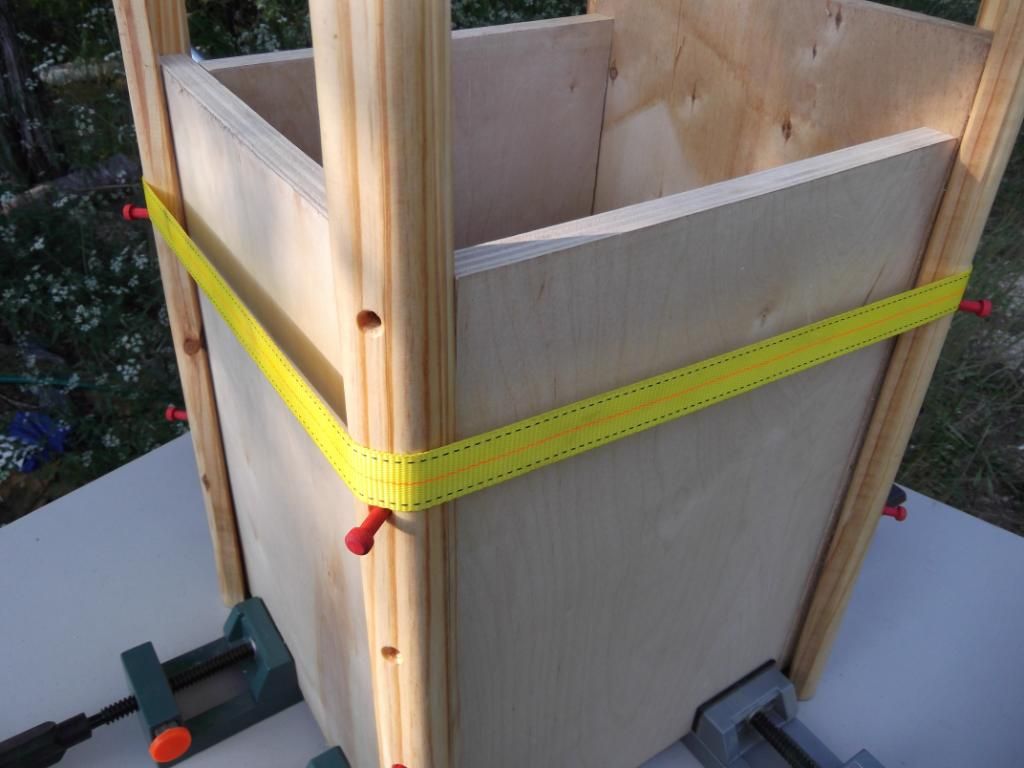 Strap Clamps are exiting things to use – when you can get them set. Once set, you can then exert clamping power that resembles a strangle hold on your quarry, forcing any joints to behave and produced an excellent glue -up.
Well, this simple aid will solve the problem and bring harmony to your woodworking that your significant other will appreciate.
The main uprights are 16" long, but shorter versions can be easily made by cutting the existing uprights into shorter lengths. Using these main uprights on each corner can also reduce the quantity of strap clamps required, thus providing a huge savings
The indexing locators are 1/4" diamter, 1-1/2" long with a retaining cheese head.
Material used is Select Southern Yellow Pine #2.
Indexing Pins are Birch, colored with New Blue water based analine dye.
Finish is Natutal stain, then naturally buffed in the buff.

Here's a set

!
This Strap Clamp Indexer is a product of my "Klan de Stein" range of helpful products and the design is registered. Ruckler has shown and interest in this product and plans to market it with their new (again) Bench Cookies called the Oreoh set, which consist of two pucks "sandwiched" by using denture adhesive which is garanteed to hold them together all day. You will note that the ends and indexers show the Ruckler blue color. Our special patented indexing pins known as "Pop-a-Pin" (RT) provide strap anti-slipage characteristics comparable to a sturdy coat hook.
International manufacturing and distribution is being handled by DeGoose Industries Pty. Ltd., who will offer versions suited to the Australian market. Alternate timbers include Fosters pallet timber and Oomygoolie Tasmaniam Spikewood. The Aussie version will carry the DeGoose logo, a beer bottle cap attached free style or haphazardly to each upright.
Words of appreciation:
My thanks go out to everyone up who has been an inspiration and supporter all through the long project.
Special thanks to Superdave, whose crude gastronomical do dads kept me awake at night giving me extra time in the shop. Hamilton for paving the way for me, William, who has added an additional use for the product, as a corset. Trust William to enhance any product design, he's really Stumpy's stooge who takes a Stumpy design and improves upon it every time. It is also my privalage to announce Stumpy's plan to retire from woodworking, there is a donation system setup to provide stumpy with the funds so he can retire. Please give very generously, as it could not happen soon enough. Stumpy plans to devote his time and energies into his Chicken Farm business because that's where his future lays. Have a cauled one Stumpy, you deserve it. (That may put and end to those unlikely posts about things he thinks about, not once was there any porn)
Steve of Marin desrves a lot of credit for making sure this design has not been stolen by Ted , thanks Steve for being our very own "Simon Weisenthal" tracking down cretins like Ted and his perloined digital empire. Thanks also Steve for your advice to stay away from digital plans and to use a pencil on the inside of a ceral box instead, this worked well for me, it's amazing what these digital thieves can do with only two numbers, God help us all if they get more.
There are many other names I could mention, but I won't.
Other projects to look forward to:
1. Challenging the garden Gnome craze with our Many Eared Platapus Pouncer.
2. Our entry into the Modern Abstract Art arena with our Fish Eating Bicyle Chain.
Thanks for looking, comments will be treated with the contempt that they thoroughly deserve.
Time to caul it a day
.............It's good to be King
-- Roger-R, Republic of Texas. "Always look on the Bright Side of Life" - An eyeball to eyeball confrontation with a blind person is as complete waste of Time.
---
---
---
---