---
I'm rather well into my long term project of making an even dozen or so games in wood and I guess you had to see this coming, a chest of drawers to store them in. This is also part of a further long term project, that of making furniture for my daughter's eventual foray from the nest. Today and for another ten years or so it will hold mostly playthings; tomorrow and beyond perhaps socks, underwear and T-shirts. It will leave my hands then as will she.
For the form, ever since I can remember I have admired mid century Danish furniture and with this piece have incorporated some of my favourite elements, mixing traditional and modern construction. The legs and drawer handles are key.
The wood is Red Gum (American Sweetgum), an under appreciated rather soft hardwood that was used everywhere in houses some 60 to 100 years ago in Southern Ontario. Doors, baseboard, casing and all sorts of interior trim were fashioned in this warm lovely wood and years later, unfortunately, often painted over and finally going to the curb on endless renovations. Very sad.
I prefer to use veneer on larger pieces as it allows careful matching and harmony of grain and colour, giving you much more creative freedom while limiting you of course at the very same time. Laid up over solid edges, you may shape, protect and profile while giving nothing away if the colours are right. I had just six leaves from two different flitches to work with as well as one long plank of highly figured solid stock. In truth I would not normally be drawn to grain so dramatic, loud even, for it says "Look at me!" and that's not my style, but this worked out fine.
The substrate is maple veneered particle board panels, allowing wood on wood gluing with a core that is superior to MDF or plywood in every respect IMO. These were vacuum pressed to begin with and then put in the hard press to cure. They're even & flat, with great dimensional stability, combined with a double lamination of veneer over solids, modern adhesives and a thorough finish. With care, this will last.
The four drawers are qrtrsawn white oak riding on and between maple frames (side-railed) with simple rabbet joints, rounded undercut sides and false fronts. Two drawers have interchangeable and rotatable sliding trays, all have full leather bottoms over Baltic birch plywood.
One new thing I tried is using UHMW low friction tape on all bearing surfaces. Waxed hardwood on hardwood has been the norm for most traditional drawers I have built and you know how they work very well indeed if properly constructed and maintained. This material added a lack of sticking on the first pull, a uniform smoothness on no play fitting, and are easily renewable if worn.
The handles were a bear to make, involving equal amounts procrastination, router table setups and handwork. Probably four or five hours apiece.
The legs were half lapped into the frame then sculpted and discretely reinforced behind, with knock down bolts machine threaded into the bottoms to serve as levelers.
Finally, carcase construction is by doweling with a screwed on back panel and everywhere else with a bunch o tasteful brass screws.
The finish is Minwax Tung Oil (x2) followed by Tried and True with varnish (x6) with Watco liquid satin wax.
35" x 35" x 21" (Chest 26") About 120 hrs.
Build on LJ's.
gene
Unfinished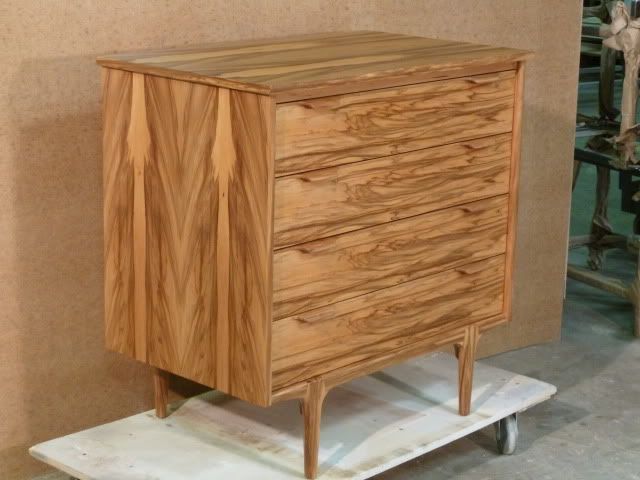 Details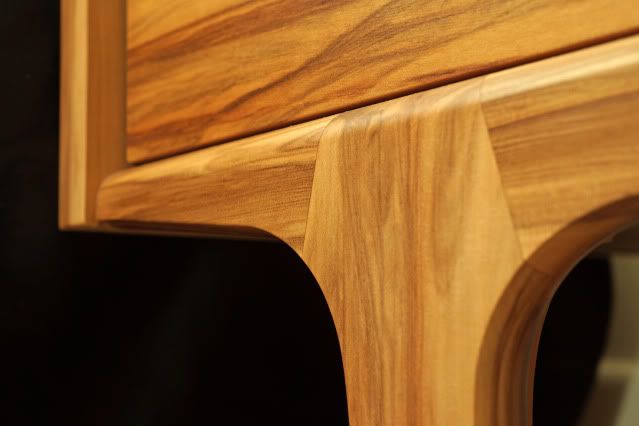 the tree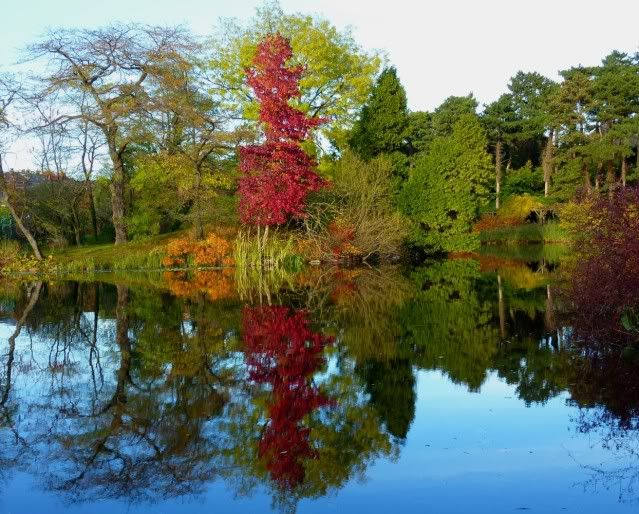 -- gene@toronto.ontario.canada : dovetail free since '53, critiques always welcome.
---
---
---
---