---
Yes, I do make furniture as well as all of the smaller things that I've posted. This is a cabinet thought of 33 yrs.ago, started 9 yrs.ago and now done. Sometimes you lose heart, it gets put away and then the habituation of the unfinished project takes over. It no longer even registers.
The main woods are Honduras mahogany, blister figured mahogany and English yew. An off-cut from the yew was fashioned into my smoothing plane. http://lumberjocks.com/projects/61609 All solids are pattern matched throughout though there was great movement in the yew.
The trim around the panels, the doors and the inlay is Makore. It's complimentary yet harder and smoother than any mahogany, polishing quite perfectly. Very toxic dust though if you are susceptible.
Construction is frame and panel for the doors and back, with a loose tenon carcase, a doweled stand & with bridle joint doors, their edges veneered over. I'm not a fan of exposed joinery. Discrete, shallow head knock down bolts are machine threaded into the legs for leveling.
The cabinet is quite a bit quieter than the photos would suggest, for lighting is everything with high figure. Sunlight makes the elements glow and shift while low incandescent light gives subtlety and mystery.
I had a little trouble with the colours and yet may change them still, after I wait for its fair time in service. That's one of the beauties of a non film finish. You can change your mind a bit easier.
Pretty much everything I make is made for a purpose, but not this piece. I have no idea what it will ever hold, for it was made just for itself. It's like the very pretty girl you once knew in school, who looked around, married young, and then retired.
Tried and True with varnish finish (6 coats), shellac on the door panels. Goddard's wax & Brusso knife hinges.
55 1/2" x 27 1/2" x 9" (Cabinet 23" high)
About 95 hrs.
Build on LJ's.
gene
Details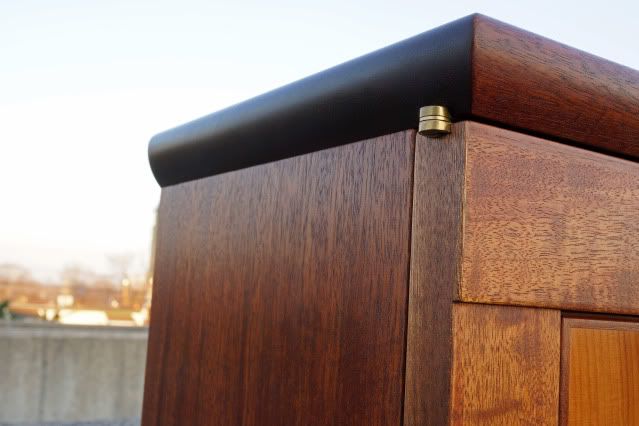 The end grain visible in these two shots was merely polished, not stained.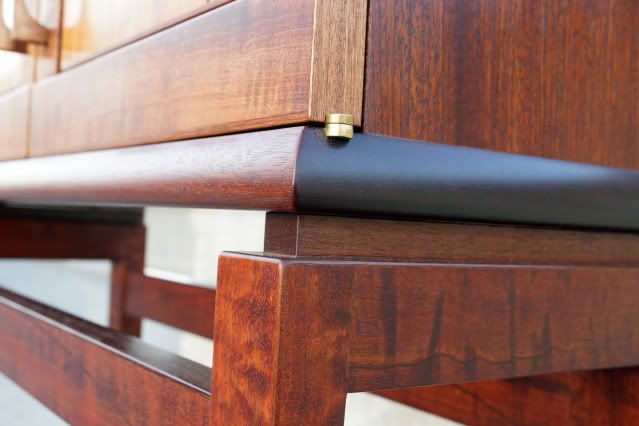 Commercial brass handles re-created in wood.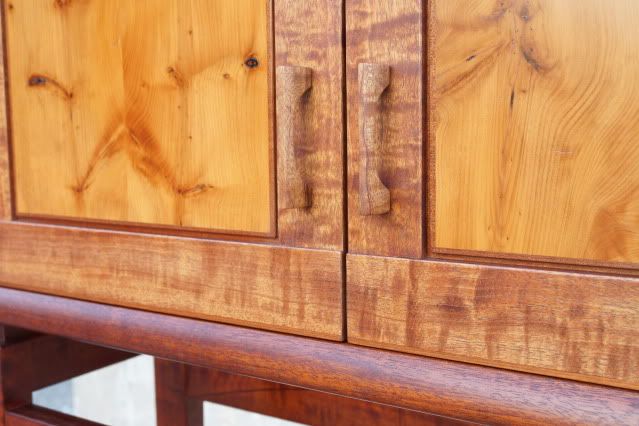 Makore inlay and trim.


In the beginning.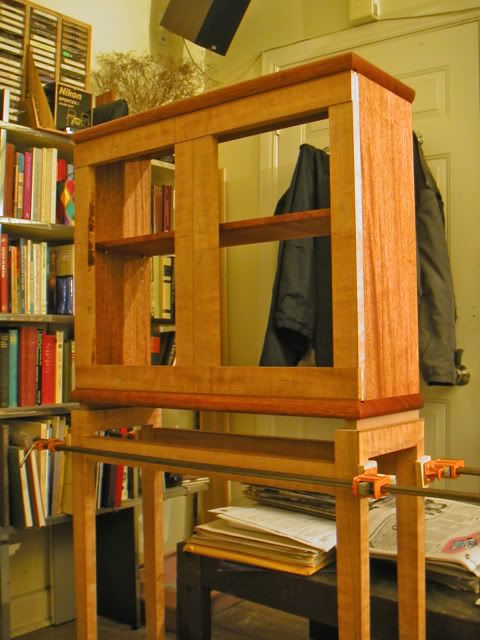 -- gene@toronto.ontario.canada : dovetail free since '53, critiques always welcome.
---
---
---
---