---
My Son was asking if a can make him a puzzle. I have never even considered making a puzzle as a project. He gets a Lego magazine every 3 and he really like on of the pages. After giving this some consideration I have started on this little project. My material list was doted down and now i was ready to start.
Material List: I got this from the local Home Depot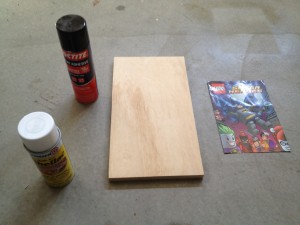 1. Spray on glue ( I used Loctite)
2. Shellac spray on finish. ( I used Zinsser)
3. Piece of plywood.(Scrap piece in the shop)
4. a Picture that you want to use.
Step 1.
Spray on the glue on the piece of wood and the back of the page. Wait until it gets tacky and the press the two together. I let it stand for another 5 minute to dry.
Step 2.
After you let it day for 5 min give it a light coat with the shellac. This will protect the paper somewhat from scratches and oily fingerprints.
Step 3.
Trim the wood to be true to the edges of the picture. Then just get creative on you band saw or scroll saw with some random patterns. If you search Google you can find some jigsaw puzzle patterns also.
This is a relatively easy little project and it it one of those can do project even for a novice woodworker like my self. One side note, If you child is small don't use Loctite, find some non toxic glue to use. Small children has the tendency to put stuff in there mouth. The Shellac that i used is non toxic since i use it for all my wooden toys. Just a Side note on my Band Saw. I have the Laguna 1400 SUV. This band saw is just fantastic. It has a lot of power and it has not disappointed me yet.
http://www.thiswoodshop.com/projects/how-to-make-a-puzzle/attachment/puzzle5/
http://www.thiswoodshop.com/projects/how-to-make-a-puzzle/attachment/puzzle2/

-- Mo... For safety is not a gadget but a state of mind. ~ "Eleanor Everet" - www.thiswoodshop.com
---
---
---
---