---
I'm game crazy I know, but how bout a new one? Are ya up for it?
This one's a beaut. A game that suits a builder's challenge as well as probably being really well liked by spatial logistical types. You know who you are.
To play, construct a three level building with your opponent, using one of 22 identically shaped playing pieces. Starting around the central cube you must touch two other faces with your piece on every turn and it must be self supporting. Your aim is to build the rampart on your opposing colour sides at the third and final level and score points by the number of blocks nestled there.
To win you may block your opponent or run straight to the top. You may also win by claiming vertigo and changing the board around while your opponent is out of the room getting you a Gravol. Who's going to notice?
To build, make 133 perfect cubes with 1596 chamfers and assemble dead straight and square. Repetition is an interesting teacher.
The original game had a trapezoidal storage box cum playing surface and the blocks were painted (!) blue. I chose to alternate walnut and spruce in every possible configuration of two colours, six pieces and a dog leg shape, making it more visually interesting and woody, as it were. This had the added and unintended effect of making it more difficult to visualize your next move, especially for 3D dummies like myself.
The usual matched storage box is here, made from a construction grade 2×4 spruce board and it being the first time that the box is way bigger than the game itself. The knots at the front resemble great bleeding wounds, which is just what your ego will look like after being whupped by the under 10 set.
Spruce is a pretty white wood, if not a bit stringy. What is remarkable here is its subtle chatoyance and super silky finish under varnish and wax. There are very few white woods available for contrast or simple inherent beauty available to us, and while spruce is not a normal cabinet grade wood I'm certainly rethinking this. Heavily cupped 2×12's sometimes show up at the lumberyards or box stores, with a dead centre heart and 5 inches of quartersawn on either side. Rejected by builders and quickly snatched up by us.
There is also a weird three player game possible whereby the third player, with 8 blocks, attempts to thwart both other players. This would be a perfect kids position playing between their parents some evening;
"Uh, that was fun, don't you think it's your bedtime?"
Game 9 1/2" x 9 1/2" x 2 1/2" with 1" Cubes About 18 hrs.
Box 6" x 19" x 3 1/4" About 6 hrs.
Minwax Tung Oil (wiping varnish) for box and board, Goddard's Wax
Oil and wax, buffing wheel, for cubes.
Build on LJs.
gene
details.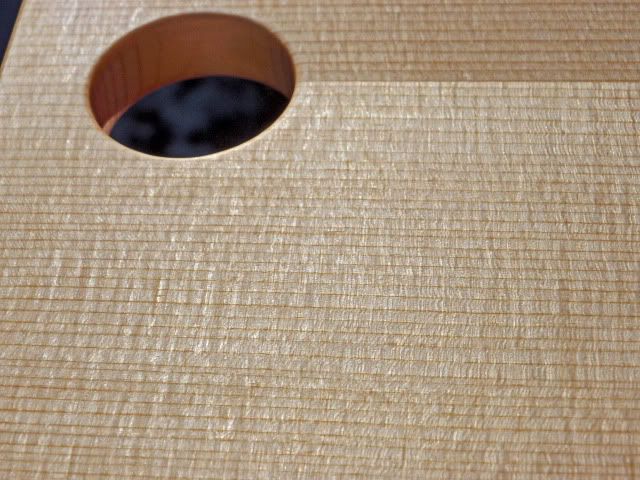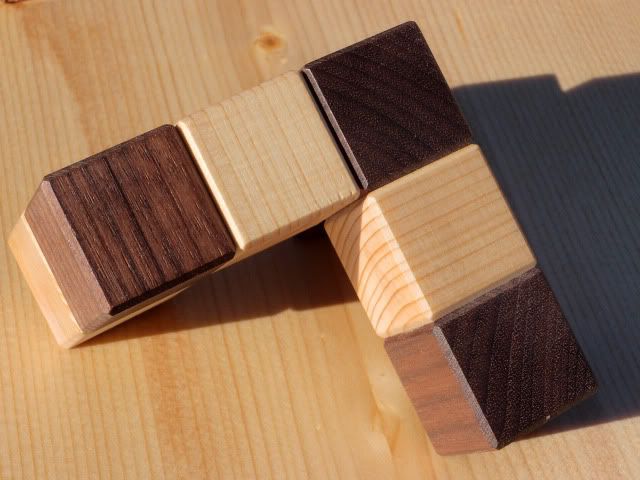 thinking through the jungle

thin top brace

working out all possible combinations.

the original game,


& too many cold ones makes it hard to decide.

an interesting review
http://boardgamegeek.com/thread/122005/friendly-and-beautiful
-- gene@toronto.ontario.canada : dovetail free since '53, critiques always welcome.
---
---
---
---